Royals top 5 trade pieces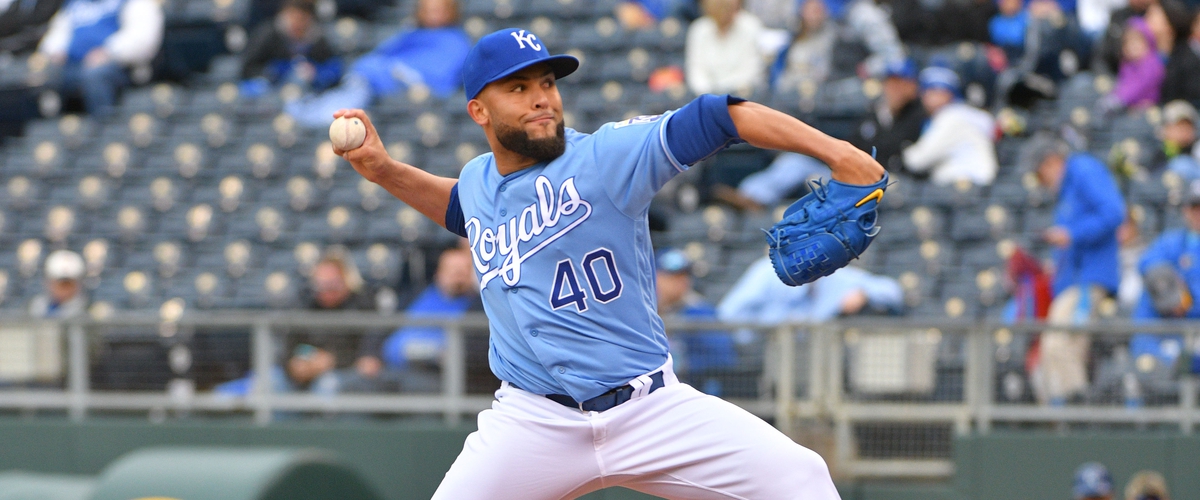 As the days go on the Kansas City Royals fall further and further out of contention. Some fans, refuse to admit things are going south. They choose to hold on to the amazing memories made on this glorious ride from 2014 to present day. Others, realize the direction things are heading and respect the players and thank them for their service time in Kansas City but think it would be best for the future of their favorite baseball team to reload at the deadline. No matter what side of the fence you are on, no matter the run--good-or-bad--the Royals go on from now until July 31st, the Royals will trade. It is not if, but when, who, and how many trades?
The Royals have too many upcoming free agents to just stand pat and not do anything; Even if they are in contention.
Who are the top 5 piece the Royals could sell off? This list may surprise you.
Kelvin Herrera: The 200-pound flamethrower is adjusting to his new role as Kansas City's closer. The former 7th-inning man is now tabbed with the responsibility of slamming the door on games. So far this year, the 100-MPH hurler has tossed 19-innings, posting a 4.26-ERA, with 2 blown saves while converting 9-saves. It is only May, and if Herrera yields just four more homers it will tie his career high in home runs allowed. His career average is 6-home-runs-allowed-per-year, he has already allowed 5 balls to be clubbed over the wall. Despite his slow start to the 2017 season--much like the entire Royals roster--what makes Herrera so appealing to teams? Unlike most players available at this upcoming trade deadline, Herrera is not a free agent following the 2017 season. If a team makes a move to acquire the Royals closer, they will have him through 2018. In this day in age of the bullpen being so important--as the 2014-15 Royals showed--Herrera, even if you don't intend on him being your closer, provides great value.
Joakim Soria: The once dominate closer--who took home the title "Mexicutioner"--had an off year last year, which left a sour taste in the mouth of Royals fans who were not around for Soria's heyday in Kansas City. So far in 2017, Soria has had a bounce back year. The most reliable bullpen arm for the Royals this year, Soria has tossed 19.2-innings for Kansas City turning in a 1.83-ERA. The 10-year-major-league-vet is signed through 2018, with a 2019 team option. The 3-year 25-million dollar deal was inked during the 2016 offseason. Much like Herrera, every contender could use some bullpen help, and if Joakim Soria can keep this pace up, teams will go after him.
Jason Vargas: Coming off Tommy John surgery, Vargas has taken the league by storm in his first month and a half of starts. The upcoming free agent has started 9-games so far in 2017. In those 9-games, Vargas has thrown 54.2-innings to the tune of a 2.30-ERA. Thus far the southpaw has posted a 1.043-WHIP, with a 7.2-hits-per-9. Every contender every year is in need of more pitching, and Vargas provides a very solid arm to any team's rotation.
Lorenzo Cain: A top tier center fielder in baseball who has the speed needed, and a nag for getting on base. Lorenzo Cain is set to hit the open market following this season--The only issues for Cain? His age (31-years-old just now getting to free agency), his history of leg issues--which foreshadow a regression of speed/fielding ability--From age, to past injuries, that leads you to believe soon Cain will be in a corner outfield spot (with little power). Cain at 31-years-old does not have the upside that most free agents do. For just a few examples: Eric Hosmer (27), Mike Moustakas (28), Jason Heyward signed with the Cubs in the 2016 offseason at age 26. Future stars becoming a free agent? Manny Machado will be 27 in his free agent year, Bryce Harper will be 26. In baseball terms, for his position/upside left/skill set/prior injuries, Lorenzo Cain is aged. You are not buying much upside with Cain, he is what he is, and now you try to gage the decline rather it be in a year, two, or three. The Kansas City Royals are paying the price of signing an aging outfielder to a long-term deal due to his past performance instead of future upside. Despite all this, Lorenzo Cain is of a certain value this trade deadline. However, it comes with an asterisk. As of now, before more injuries occur or do not, Lorenzo Cain is really only need in the nation's capital. The Washington Nationals see their window of opportunity closing--much like the Royals in 2015 it is their time to go for it--The Nats went for it, trading for White Sox center fielder Adam Eaton this offseason. In early April however, Eaton blew out his knee and will be on the shelf for the remainder of the year. The good news for the Nats? Eaton--unlike Cain--is not a free agent until 2020. Lorenzo Cain, is a free agent after this season and that works out perfectly for Washington. Washington could trade for Lorenzo Cain mid-season, then allow him to walk and welcome back Adam Eaton for 2018. So why is Lorenzo Cain so low on this list? Because unlike pitching--which every team needs--As of now, the only real suitor of Cain would be the Nats.
Mike Minor: No not Eric Hosmer, not Mike Moustakas, but Mike Minor. Minor's 5-year career has seen his fair share of injuries. So far in 2017, Minor has been a top three reliever for Kansas CIty. Eating up 23.2-inning, and a sub-2-ERA (1.90-ERA). The middle relief man is a free agent in 2018 if the mutual option is not picked up by both the ball club and player. The haul for Minor won't be franchise changing, but it can bring the Royals back much needed depth and solid pieces.
Hold the anger! Hold the anger! Why isn't Eric Hosmer, Mike Moustakas, or even Alcides Escobar on this list? Let's start easy. The Royals could not give away Alcides Escobar. So why aren't the other two on the list? It is simple, not a lot of teams need a first basemen in Eric Hosmer's case. You also can not just stick Hosmer in the DH spot as that negates over half of the value Hosmer brings you. Despite his streakiness, Hosmer's age and the aforementioned upside will prove to be the main factors in his eventual pay-day. After slapping a qualifying offer on Hosmer, the Royals will get back a compensation pick which will allow Dayton Moore--whom Royals fans always say you must have faith in--to scout and develop his own guy. With Mike Moustakas, the same thing, not a lot of teams in contention need help at the hot corner. However, with Moose, you could slide him at DH. The question becomes: Would a team want to give up a lot for a DH--when, like Hosmer--a lot of his appeal comes with his stellar glove. To go along with Moustakas, I think that is the player the Royals should target to keep in Kansas City long term, even with the talent at the hot corner in the organization (Cuthbert and Dozier).
For more Royals news, notes, game updates, and opinions, follow: @Rylan_Stiles on twitter.
---