Are These NL-Leading Brewers Legit? Yes.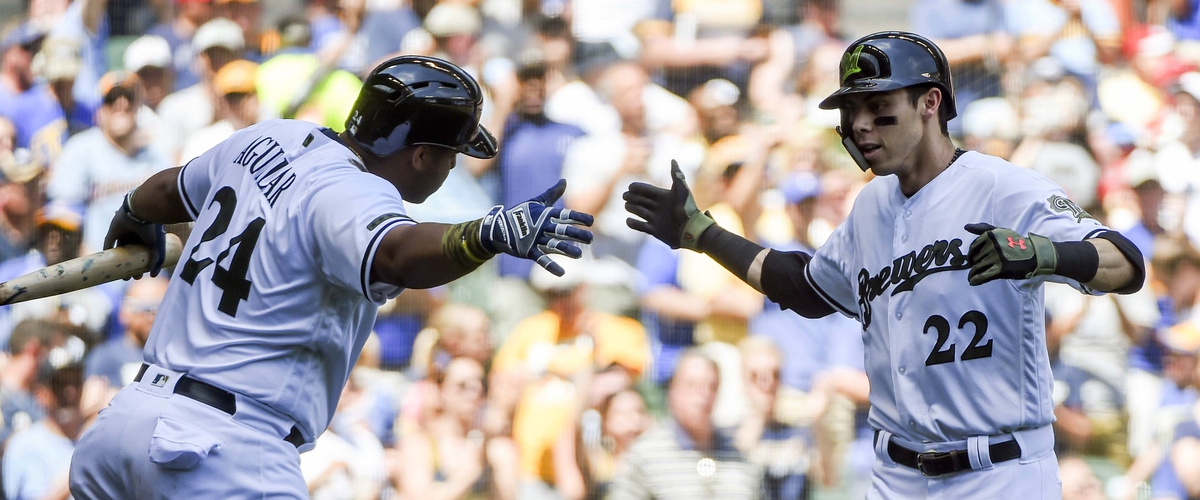 Memorial Day weekend is widely regarded as the first real checkpoint of a baseball franchise's season. If that's the case, Milwaukee's front office has every reason to be thrilled.
The Brewers are first place in the entire National League, and have the biggest division lead out of any division across baseball. Yep, you read that correctly. In a league with incredibly stacked teams like the Cubs, Dodgers, and Nationals, as well as up-and-coming risers like the D'Backs, Braves and Rockies, the Brewers boast a better record than all of them. Now, will the Brewers end the season as the best team in the National League by winning the pennant? Cubs fans would certainly disagree, but all signs point to this team being the best Brewers roster in the 21st century. Similarly, this is likely the best shot the Brewers have at reaching the World Series for the first time since 1982.
Let's start with the offense. Last season, Eric Thames, Travis Shaw and Domingo Santana all reached at least 30 Homers, proving to be among the best power-hitting lineups in all of baseball. With June right around the corner, Eric Thames is still out injured and Domingo Santana hasn't found his power yet. This would normally be a major concern, but last year's run combined with the biggest-spending offseason in a long time proves the Brewers are still better off at the plate than last season. Let's take a look at their current line-up, and assuming this is about the one-third mark, we'll triple the non-average hitting stats to show what they're on pace to hit:
1. CF Lorenzo Cain: .289 Avg, 18 HRs, 48 RBIs, 33 SBs, .840 OPS
2. LF Christian Yelich: .310 Avg, 18 HRs, 72 RBIs, 18 SBs, .859 OPS
3. 1B Jesus Aguilar: .315 Avg, 27 HRs, 90 RBIs, 0 SBs, .957 OPS
4. 3B Travis Shaw: .260 Avg, 39 HRs, 108 RBIs, 0 SB, .882 OPS
5. RF Domingo Santana: .256 Avg, 9 HRs, 51 RBIs, 3 SB, .698 OPS
6. 2B Jonathan Villar: .275 Avg, 9 HRs, 48 RBIs, 24 SBs, .703 OPS
7. C Manny Pina: .218 Avg, 12 HRs, 36 RBIs, 0 SB, .644 OPS
8. SS Tyler Saladino: .324 Avg, 9 HRs, 24 RBIs, 0 SB, .981 OPS
9. *insert pitcher here*
If those stat projections hold up, that's one helluva lineup. The fact that the first four hitters are all posting at least a .840 OPS shows Milwaukee's firepower at the plate and around the base path. Lorenzo Cain has proven to be worth every penny, hitting near .300 while adding decent power and a base-stealing threat every time he reaches safely. Christian Yelich is hitting well above .300 while also adding power, speed and fielding prowess. How often does a team get a 1-2 punch of five-tool players at the top of their lineup? Jesus Aguilar has waited patiently behind Eric Thames for his shot at starting, and now with Thames on the DL for a while, Aguilar has exploded on the scene by hitting an incredible .315 average clip. Aguilar's power has also been on display: he's currently fifth in the NL in OPS (players with 125+ AB's) and is on pace to hit nearly 30 homers and 90 RBI's. Travis Shaw has been, well, Travis Shaw-like. He's 4th in the NL in homers, 8th in RBIs and 12th in OPS. He's also been a reliable defender and a dependable leader as the everyday cleanup man. Domingo Santana started the season off horribly, but it looks like he's turning it around, providing the go-ahead RBIs on Sunday. Jonathan Villar lost his 2B spot TWICE last season, but his play at the plate (.275 Avg), on the base path (T-10th in Steals) and fielding makes it seem like he's finally pulled his head out of his ass. Manny Pina isn't hitting as well as his breakout season last year, but he's still hitting well enough for the bottom of the lineup, and his fielding has fortified his case in being one of the best defensive catchers in all of baseball. The biggest surprise of the season could very well be Tyler Saladino. He wasn't playing well enough to stay up with the White Sox, one of the worst clubs out there, and after being called to help the Shortstop hitting issues with Orlando Arcia and Eric Sogard, he's somehow ripping a .324 Average with a strong pop of power, both starting and coming off the bench. His excellent defense gave Craig Counsell the flexibility to send down Arcia with the intention of bettering his swing at a lower level (to be fair, you can't keep giving starting reps to a young guy hitting .194 in a division like the NL Central, no matter how good his defense is).
Here's my favorite part: even if the lineup doesn't hold up, the Brewers are deep enough to plug whatever holes arise. If you notice, this lineup doesn't feature Eric Thames, Ryan Braun or Orlando Arcia, three starting-quality players. Before his thumb surgery, Eric Thames was on pace to hit 30 home runs again. While it's unlikely his contact and on-base percentages would hold up to his April performances (the same anomaly happened last year), the power, whether in the starting lineup or coming off the bench, should definitely return once healthy. Ryan Braun isn't the MVP candidate he used to be, but he's proven to be a reliable defender at first and in the outfield corners, as well as a clutch pop of power coming off the bench. Orlando Arcia was leading all Shortstops in Runs Defended, which is no surprise if you watch him field, but his .194/.233/.506 was the worst among all starting Brewers, and at 23, it makes sense to let him try and tweak his swing with everyday reps at the lower level. I have very little doubt that Arcia will be back up in no time, and just like Craig Counsell said, the Brewers are better with a non-slumping Orlando Arcia as their everyday Shortstop. Even if injuries start to pile up, Milwaukee STILL has solid bench options in C Erik Kratz, UT Hernan Perez, IF Eric Sogard, and outfielders Keon Broxton and Brett Phillips.
Starting Pitching was undoubtedly the biggest positional concern Brewers fans had after not signing another starter this offseason, even though Milwaukee was in discussions with Jake Arrieta, Yu Darvish and Alex Cobb. This is what the current rotation looks like, once again with their non-average numbers tripled:
1. Chase Anderson: 30 Starts, 12-9, 4.42 ERA, 120 K's, 1.24 WHIP
2. Zach Davies: 24 Starts, 6-12, 4.74 ERA, 99 K's, 1.34 WHIP
3. Jhoulys Chacin: 33 Starts, 9-3, 3.69 ERA, 135 K's, 1.33 WHIP
4. Junior Guerra: 27 Starts, 9-9, 2.98 ERA, 132 K's, 1.18 WHIP
5. Brent Suter: 30 Starts, 15-9, 4.63 ERA, 144 K's, 1.29 WHIP
At first glance, it looks like relatively high ERAs and WHIPs, as well as no one on pace to hit 150 strikeouts. However, before we get into a case-by-case basis, here's the most important stat: 34 Quality Starts. That's the most out of any National League Rotation. Individually, they might not pop off the charts like Houston (the only team with more Quality Starts), but as a collective unit, they've put together more quality starts than 28 other teams in baseball. Alright, now back to the individual starters. Chase Anderson missed a little bit of time with the flu, but overall, he's been a decent second or third man in the rotation. His biggest problem is giving up Home Runs, in which he's second in the NL. Zach Davies has struggled to stay healthy, and even when healthy, he's statistically the worst of all five starters. I doubt he'll have fewer than 100 K's, but if that ERA stays above 4.50, he shouldn't be in the top half of the rotation. Jhoulys Chacin was the biggest starting pitcher name added in free agency, and despite a rough start, he's finally found his off-speed stuff recently and lowered his ERA down to 3.69. It should be mentioned that he's leading Milwaukee in Quality Starts, and barring another rough patch, he should have double digit wins and an ERA below 3.50, nice numbers for a mid-rotation arm. Junior Guerra earned another shot at the big leagues after a solid spring training, and his 2.98 ERA and 1.18 WHIP are the best in the rotation. While his ERA might not stay below 3.00, he should continue to be one of the most dependable bottom-half rotation starters in the league. Brent Suter was essentially a fill-in starter last year, and while his ERA could be a lot better, he's on pace to lead the team in Wins and Strikeouts. Suter's also had the most run support out of any starter, but he's earned his place as a solid fifth starter in any rotation.
What's scary is Milwaukee doesn't even have their best starter available yet. Jimmy Nelson is arguably the most talented arm in the rotation, and he's set to return from a nasty shoulder injury before the All-Star break. Wade Miley had a promising spring training, and he's set to return to full health even sooner than Nelson. If that isn't deep enough, Milwaukee also has young, rising arms in Brandon Woodruff and Freddy Peralta. After the All-Star break, Milwaukee will have Chase Anderson and Jimmy Nelson as their top two starters, Jhoulys Chacin and Zach Davies fighting between the third and fourth spots, and a fifth spot open to the best of Junior Guerra, Brent Suter, Brandon Woodruff and Freddy Peralta. Wow. While Milwaukee may not have the top-end talent that other leading rotations boast (Cubs, Dodgers, Nationals, etc.); their pool of start-deserving starters is as deep as any team in the major leagues, especially when Jimmy Nelson returns.
If you thought the batting order and the starting rotation were promising, you're in for a treat: I saved the best for last. Yes, I'm talking about the bullpen. While it's likely the least glorious of all position groups, the past decade of playoffs have proven that the better the bullpen is, the more likely of a deep playoff run you'll have. This is no secret, as the league-wide trend this season is to pull starters earlier and earlier and leave nearly half the game up to the 'pen. Hell, the Rays are now STARTING relievers and working their way backwards. Regardless of how you use 'em, the bullpen is ever-important, and the Brewers just so happen to have the best bullpen in all of baseball. Here are the individual stats, with the relievers ranked below by WAR (wins above replacement). Again, non-average stats are tripled:
1. Jeremy Jeffress: 78 Games, 81 Innings, 0.32 ERA, 72 K's, 0.68 WHIP, 9 Saves
2. Josh Hader: 54 Games, 94 Innings, 1.15 ERA, 186 K's, 0.57 WHIP, 18 Saves
3. Matt Albers: 63 Games, 75 Innings, 1.08 ERA, 63 K's, 0.88 WHIP, 3 Saves
4. Dan Jennings: 72 Games, 71 Innings, 2.19 ERA, 51 K's, 1.18 WHIP
5. Taylor Williams: 51 Games, 94 Innings, 2.84 ERA, 84 K's, 1.16 WHIP
6. Corey Knebel: 33 Games, 31 Innings, 5.23 ERA, 39 K's, 1.16 WHIP, 12 Saves
7. Jacob Barnes: 54 Games, 60 Innings, 2.70 ERA, 60 K's, 1.65 WHIP, 6 Saves
First off, the Brewers have THREE relievers with an ERA under 1.16? Are you kidding? Let's begin with the best of the best Jeremy Jeffress has only given up one run in 27 Games, and his 23-game scoreless streak is tied for the longest in Brewers history. His 0.32 ERA is absolutely staggering, and easily puts him in the running for reliever of the year. He may lose that race to his own teammate, though. Josh Hader is on track to easily beat the record for strikeouts thrown by a reliever. In fact, if his 1.15 ERA/186 K's projection holds up, he should be in the conversation for the NL Cy Young. Although overshadowed by the first two relievers mentioned, Matt Albers has been as good of a setup man as any in the league, as his 1.08 ERA/0.88 WHIP line is All-Star worthy. Dan Jennings was a late addition after getting cut by the Rays at the end of Spring Training, and he's been a reliable early reliever with a solid 2.19 ERA. Taylor Williams is seeing the most big league action of his career so far, and his K/9 ratio of 13.3 is second-best only behind the record-setting Hader. Corey Knebel suffered a nasty injury early in the season, and hasn't quite found his closer-worthy stuff seen last year during his All-Star campaign, but with time and practice, he should return to being among three other incredibly reliable back-end relievers in this bullpen. Jacob Barnes suffered command issues and took a brief AAA stint, but his "struggling" was still good enough for a 2.70 ERA. If injuries arise, Boone Logan and Adrian Houser are more than capable of handling a big league workload. While Corey Knebel is the traditional closer, and deservingly so after his incredibly run last year, if he doesn't get that ERA down soon, the closer title should swiftly be passed on to Jeremy Jeffress, with Josh Hader and Matt Albers as incredible alternatives.
So, to sum up the entire team's current season so far...
Milwaukee has the deepest offense in decades, their starters lead the entire league in Quality Starts, and their bullpen is by far the strongest in the NL, led by two record-breaking back-end relievers. To answer my question-bearing title: yes, this Milwaukee Brewers squad is legit.
See you in October.
---