Final NBA Mock Draft 2018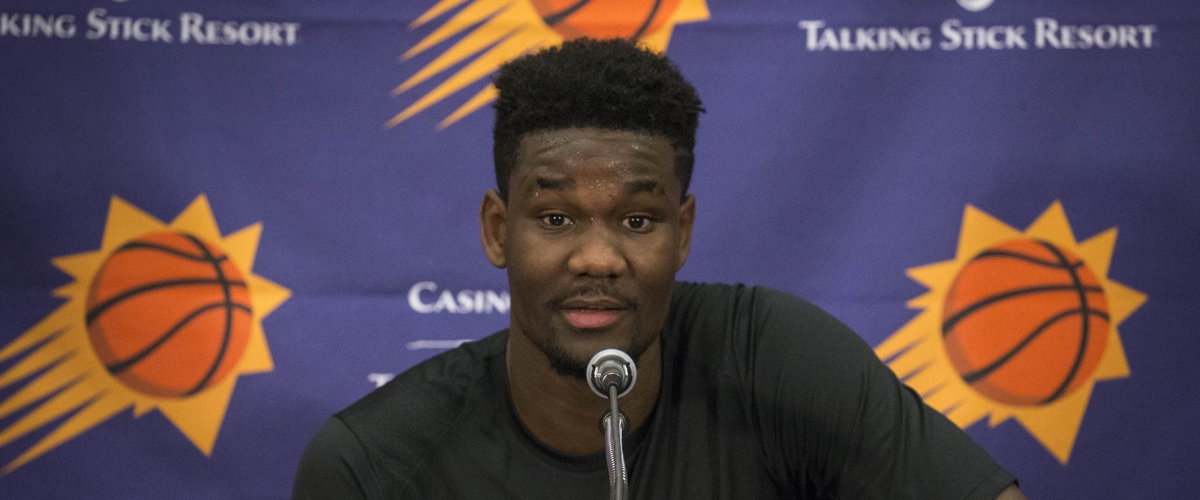 To no one's surprise, the first pick is pretty much already decided: DeAndre Ayton. He'll get to stay in Arizona and help Devin Booker in making Phoenix something better than the laughingstock of the Western Conference. After that, things will get hectic. A LOT of teams want to move up, with the Bulls and Knicks looking really desperate. Toronto may be on the move too, and they've come out and said no one is off the table as far as trade possibilities are concerned. For now, I'll make the mock draft based on who has the picks as of Wednesday night. Let's do this!
1. Phoenix Suns: DeAndre Ayton, C, Arizona
He's been the pick in every mock draft so far, and it's all but decided already. Next.
2. Sacramento Kings: Marvin Bagley III, PF/C, Duke
He's been my #2 pick in every mock draft I've done, and reports keep coming out that he's the preferred pick in Cali's capitol. They need front-court help and liked him when he worked out, so it makes perfect sense.
3. Atlanta Hawks: Luka Doncic
The most recent reports have Atlanta leaning towards Doncic, even though Center is probably a bigger needs and Mo Bamba and Jaren Jackson Jr. are both still available. Oh well, what do I know?
4. Memphis Grizzlies: Jaren Jackson Jr., PF/C, Michigan State
If any pick in the top five is going to be dealt, it's Memphis. The Clippers, Cavs, Bulls and Knicks are all looking to move up and take either Michael Porter Jr., Jaren Jackson Jr. or Mo Bamba. However, assuming Memphis keeps it, Jaren Jackson Jr. makes the most sense, as JaMychal Green is currently the best front-court player next to Marc Gasol.
5. Dallas Mavericks: Mo Bamba, C, Texas
If Mo Bamba ia still is available at #5, there's a handful of teams that would give a lot to take the Texas big man. If Dallas keeps the pick, Nerlens Noel is leaving and Dirk Nowitski's defensive skills are gone; so either way, Mo Bamba makes sense. Plus he gets to stay in-state. I'm a sucker for that.
6. Orlando Magic: Trae Young, PG, Oklahoma
I had this as the pick last time, and Orlando still needs a Point Guard as badly as ever. Michael Porter Jr. is a tempting option, but D.J. Augustin is their best Point Guard. That's not good.
7. Chicago Bulls: Chicago. Michael Porter Jr., SF/PF, Missouri
Chicago needs help at Small Forward and Power Forward, and they also need another scorer after trading Nikola Mirotic. Michael Porter Jr. solves both issues, plus some would consider him a steal at #7.
8. Cleveland Cavaliers: Wendell Carter Jr., C, Duke
With Trae Young and MPJ off the board, Cleveland's top two options are Wendell Carter and Shai Gilgeous-Alexander. While SGA might address Cleveland's needs better, there's no mock draft with Wendell Carter slipping past #8 because he's just that good. Even with Kevin Love and Tristan Thompson, he's an instant platoon option who can grind it out in the paint, pass well and drain shots (think of a poor man's Al Horford).
9. New York Knicks: Mikal Bridges, SF, Villanova
New York could be tempted to take another Point Guarcd in the lottery just a year after taking Frank Ntilikina, and Shai Gilgeous-Alexander and Collin Sexton are both still on the board. However, they could use help on the wing, and Mikal Bridges is the best two-way wing in the entire draft.
10. Philadelphia 76ers: Kevin Knox, SF/PF, Kentucky
Kevin Knox used to be a borderline lottery pick, but his strong showing in camps and the Combine makes him a lottery guarantee. He's leap-frogged Miles Bridges as far as combo Forwards go, and since Philly has no need for big men or Point Guards, Knox is the way to go.
11. Charlotte Hornets: Collin Sexton, PG, Alabama
Kemba Walker is still one of the hottest trade rumors, and Collin Sexton and Shai Gilgeous-Alexander are two lottery-deserving PG's at #11. If Kemba leaves, Charlotte's scoring potential is completely shot, making Collin Sexton the more realistic pick here.
12. Los Angeles Clippers: Shai Gilgeous-Alexander, PG/SG, Kentucky
The Clippers' picks are still Shai Gilgeous-Alexander and Robert Williams in my eyes; their order is jsut flip-flopped due to their current stock. GIlgeous-Alexander can learn different aspects of the game from Patrick Beverley and Milos Teodosic, while providing needed athleticism and grit right away.
13. Los Angeles Clippers: Robert Williams, C, Texas A&M
Robert Williams is still receiving DeAndre Jordan comparisons, and once again, he'll either learn from him or replace him in L.A. Either way, you know the offense can cater to his style of play, and his tape shows he's more than capable on the defensive end.
14. Denver Nuggets: Miles Bridges, SF/PF, Michigan State
Bridges' stock has slipped, since teams realized he didn't really improve last season and he doesn't have a great positional fit at the next level. Still he's a two-way, versatile player with athleticism to spare, and Denver has the flexibility to use him as little or as much as they like.
15. Washington Wizards: Lonnie Walker, SG, Miami
Lonnie walker and Zhaire Smith are both the two best candidates here, and Walker is simply the better player of the two. He'll provide defense off the bench right away while improving his offensive game behind Bradley Beal.
16. Phoenix Suns: Aaron Holiday, PG, UCLA
Devin Booker could use another option outside of Brandon Knight at the Point, and assuming Phoenix keeps this pick, Aaron Holiday is still by far the best Point Guard available.
17. Milwaukee Bucks: Jerome Robinson, SG, Boston College
Milwaukee needs another wing, and Khyri Thomas, Jerome Robinson and Zhaire Smith are all excellent candidates still on the board. Bench scoring was a major issue, and Jerome Robinson a better scorer than anyone else on the board. His stock has risen as much as anyone else's, and he looks like the most likely guy heading to Milwaukee. I do really like Khyri Thomas, and I'd be more than content if he was the pick.
18. San Antonio Spurs: Zhaire Smith, SG/SF, Texas Tech
San Antonio will likely decide between Zhaire Smith, Khyri Thomas and rising Small Forward Kevin Huerter. San Antonio needs athleticism, especially losing veterans Tony Parker, Danny Green and Rudy Gay. Zhaire Smith is exactly that.
19. Atlanta Hawks: Mitchell Robinson, C, USA (19)
There's a good chance Atlanta ships this pick elsewhere, but if they keep it, they need front-court help badly. With Luka Doncic taking care of the back-court concerns, and with later picks to spare, Atlanta can afford to gamble on the 19-year-old big man Mitchell Robinson. Miles Plumlee and Dewayne Dedmon are their two Center options, so Robinson could fight for time right away.
20. Minnesota Timberwolves: Kevin Huerter, SF, Maryland
Minnesota has a solid starting line-up, but they were the worst 3-point shooting team last year and their best bench 3-point shooter, Jamal Crawford, is leaving in free agency. Kevin Huerter is still the best 3-point shooter available, with Khyri Thomas as the next best pick.
21. Utah Jazz: Elie Okobo, PG, France (20)
The only Point Guard under contract is Ricky Rubio, and rising French PG Elie Okobo shot 42% from beyond the arc last season. Troy Brown and Khyri Thomas would both make sense here as well.
22. Chicago Bulls: Chandler Hutchison, SF, Boise State
Rumor has it Chicago promised Chandler Hutchison a spot on their roster at #22, and Hutchison's lack of workouts for other teams only fuels that fire. Even after taking Michael Porter Jr., they could use more another scoring-capable wing coming off the bench.
23. Indiana Pacers: Troy Brown, SG, Oregon
Troy Brown is likely still the pick, even though Khyri Thomas and Jacob Evans are on the board. He's 18, a two-way wing and guarded four positions well in his freshman campaign. If Indiana likes what they see in Anfernee Simons, he could be a surprise pick here.
24. Portland Trail Blazers: Anfernee Simons, SG/PG, IMG Academy (19)
According to Portland media, Anfernee Simons and Dzanan Musa worked out for Portland more than any other prospects. While Musa makes sense, as Portland could use another winger who can shoot on their bench, the idea of Anfernee Simons learning behind Damian Lillard and C.J. McCollum is an enticing one. If they suddenly fancy Khyri Thomas, Jacob Evans or Donte DiVincenzo, they all make sense here too.
25. Los Angeles Lakers: Donte DiVincenzo, SG, Villanova
Mitchell Robinson, Kevin Huerter and Anfernee Simons are all gone, the Lakers' three-most worked-out prospects. Donte DiVincenzo makes sense for L.A., even if his ceiling is capped as a high-moter bench option. Jacob Evans, Khyri Thomas and De'Anthony Melton all makes sense here as well.
26. Philadelphia 76ers: Khyri Thomas, SG, Creighton
The Sixers don't necessarily have needs to fill here, but adding a reliable 3-and-D bench option in Khyri Thomas is logical. Jacob Evans, De'Anthony Melton and Josh Okogie are other formidable options available.
27. Boston Celtics: Bruce Brown, SG, Miami
Bruce Brown is from Boston, and worked out in Beantown as much as any other prospect. He's an athletic, two-way guard who needs to develop a consistent shot. Danny Ainge could take Grayson Allen, Jalen Brunson or Jacob Evans here as well.
28. Golden State Warriors: Jacob Evans, SF, Cincinnati
Golden State is only looking for role players, and Jacob Evans could take minutes from Nick Young and Patrick McCaw right away. There was only one team that Evans worked out with more than once: the Warriors.
29. Brooklyn Nets: Moritz Wagner, PF/C, Michigan
Brooklyn doesn't have any Power Forwards under contract, and they could use a big man that can stretch the floor. Mo Wagner can do both. If they like Dzanan Musa, he's the next best candidate here.
30. Atlanta Hawks: Jalen Brunson, PG, Villanova
Atlanta could go with a winger like Melvin Frazier or Dzanan Musa here, but Jalen Brunson is a player who can step in and lead their second unit right away. With two gambles in Luka Doncic and Mitchell Robinson, Atlanta could use a safe, reliable option on their bench.
SECOND ROUND
31. Phoenix Suns: Keita Bates-Diop, SF/PF, Ohio State
Phoenix took DeAndre Ayton and Aaron Holiday, leaving a bench wing as their top remaining need. Keita Bates-Diop is a proven scorer who can also guard big men, plus he's gotten significantly better every year in college. Melvin Frazier and Dzanan Musa are two other Small Forwards who would fit.
32. Memphis Grizzlies: Melvin Frazier, SF, Tulane
Memphis took a big man in Jaren Jackson Jr., and now they add Melvin Frazier, a wing who can both score off the bench and guard multiple positions. Josh Okogie and Dzanan Musa are two other reputable options here.
33. Dallas Mavericks: Josh Okogie, SG, Georgia Tech
Dallas needs depth at the 2, and Josh Okogie is an athletic competitor who can handle minutes right away. His improved shooting will only get better learning behind Wesley Matthews at Shooting Guard.
34. Atlanta Hawks: Dzanan Musa, SF, Bosnia (19)
Atlanta has Luka Doncic, Mitchell Robinson and Jalen Brunson already in this mock draft. Dzanan Musa is an excellent shooter, and while he's not very athletic and his ceiling is capped as a bench player, a rebuilding Hawks squad could use a consistent-shooting wing as a role player.
35. Orlando Magic: Grayson Allen, SG, Duke
Orlando could use another Shooting Guard, and Grayson Allen is one of the most experienced players in this class. He'll provide competitiveness and consistent shooting off Orlando's bench right away. Hamidou Diallo and Gary Trent are two other options here.
36. Sacramento Kings: Jevon Carter, PG, West Virginia
Jevon Carter is the best defensive Point Guard in the draft, and he'll be ready to lead Sacramento's B-unit behind De'Aaron Fox. If they like combo guards Shake Milton or De'Anthony Melton here, those are two decent alternatives.
37. New York Knicks: De'Anthony Melton, PG/SG, USC
The Knicks could use depth at both Guard spots, and De'Anthony Melton is an excellent value at #37 that can fill time anywhere in the back-court. Hamidou Diallo is the next best option here.
38. Philadelphia 76ers: Omari Spellman, PF, Villanova
Philly took KEvin Knox and Khyri Thomas earlier in this mock, and they have the front-court talent to allow Omari Spellman to take time and improve his figure. He's a dual-threat Power Forward on offense right away, and the effort is there as far as rebounding is concerned.
39.Los Angeles Lakers: Chimezie Metu, PF/C, USC
The Lakers traded their pick in next year's second round for this one, and after missing out on Mitchell Robinson, they can add another project big man with athleticism in Chimezie Metu.
40. Brooklyn Nets: Hamidou Diallo, SG, Kentucky
Brooklyn could use depth at Shooting Guard, and while Hamidou Diallo may not produce offensively for a while, he's an incredible athlete with a frame built to guard multiple positions.
41. Orlando Magic: Jarred Vanderbilt, PF/SF, Kentucky
Orlando took Collin Sexton and Grayson Allen earlier, and now they can add some front-court help. Jarred Vanderbilt can reabound, and while the rest of his game may be a work in progress, the potential is very high for the Kentucky Power Forward.
42. Detroit Pistons: Rodions Kurucs, SF, Latvia (20)
Detroit needs another wing to contribute offensively. Rodions Kurucs is a solid shooter who, unlike other European prospects, can actually handle reps right away. He's also 6'9" and only 20.
43. Denver Nuggets: Shake Milton, SG/PG, SMU
Will Barton and Devin Harris are both free to leave, so taking a combo guard is a smart move here. Shake Milton had an awful combine, but his consistent shooting and defense shouldn't see him slip much further than the top 45.
44. Washington Wizards: Landry Shamet, PG/SG, Wichita State
Tim Frazier, Ramon Sessions and Ty Lawson are all gone, leaving a hole at Point Guard. Landry Shamet is the best Point Guard available, and he has a chip on his shoulder to prove himself after a horrid combine.
45. Charlotte Hornets: Devonte' Graham, PG, Kansas
Yes, I know this means Charlotte is taking two Point Guards, but if they trade Kemba, they'll need someone to compete with Collin Sexton. While Sexton is a proven scorer, he has concerns surrounding his distribution abilities. Devonte' Graham is a proven scorer AND passer, and a capped ceiling isn't a concern for a Hornets roster looking for a #2 Point Guard.
46. Houston Rockets: Brandon McCoy, C, UNLV
Brandon McCoy has dropped off most people's draft boards, but I still believe in the seven-footer. Houston lacks depth at Center, and if Clint Capela leaves, they have a big front-court problem. With no other proven front-court options available at #46, Brandon McCoy (in my humble opinion) is the most deserving big man gamble.
47. Los Angeles Lakers: Kevin Hervey, SF/PF, Texas-Arlington
Kevin Hervey was a possible first-round pick before a nasty knee injury. His versatility, especially on defense, will be a major asset coming off the Lakers' bench.
48. Minnesota Timberwolves: Tony Carr, PG/SG, Penn State
Tony Carr's poor combine prevented him from going in the Top 45, but his deep-ball ability and overall offensive game should be enough for him to compete with Tyus Jones for backup Point Guard reps.
49. San Antonio Spurs: Justin Jackson, SF/PF, Maryland
Even after drafting wing Zhaire Smith, San Antonio could use help at the 3 and 4. Justin Jackson helps with both right away, and Gregg Popovich should do wonders in bringing out all of Jackson's tools on offense and defense.
50. Indiana Pacers: Trevon Duval, PG, Duke
Darren Collison and Cory Joseph are both free agents after next season, meaning Indiana will need Point Guard help a year from now. Trevon Duval is an athletic Point Guard with all the tools to succeed, but he definitely could use a year in the G League to work on his shooting and scoring capability. Indiana can work with that.
51. New Orleans Pelicans: Keenan Evans, PG/SG, Texas Tech
Rajon Rondo, Ian Clark and Jordan Crawford are all free agents. Keenan Evans is a combo guard who can handle minutes right away, and apparently New Orleans are keen on him.
52. Utah Jazz: Gary Trent Jr., SG, Duke
Gary Trent definitely isn't ready to see major minutes, but his potential as a high-end platoon Shooting Guard should guarantee his name on the board somewhere. Plus, Utah can work with young, inexperienced players in their backcourt: look at Donovan Mitchell.
53. Oklahoma City Thunder: Malik Newman, SG, Kansas
It's unusual to see a pick this late with a common trend across mock draft, but the consensus is that Malik Newman is going here. I'm not one to disagree with a surprising statistical agreement.
54. Dallas Mavericks: Isaac Bonga, PG/SF, Germany (18)
Dirk Nowitski has made the Mavericks a household name in Germany, and his leadership could help an inexperienced German prospect like Isaac bonga develop into something special. They could stash him overseas if they choose to, given he's only 18, but his freak length and versatility at players the 1, 2, and 3.
55. Charlotte Hornets: Kenrich Williams, SF, TCU
Charlotte could use another wing prospect, and Kenrich Williams is likely the best Small Forward prospect on the board.
56. Philadelphia 76ers: Sviatoslav Mykhailuk, SG, Kansas
Svi Mykhailuk is a fantastic 3-point specialist, and even if he doesn't develop into anything more than a shooting bench option, Philly has nothing to lose at #56.
57. Oklahoma City Thunder: Kostas Antetokounmpo, SF/PF, Dayton
Oklahoma City likes athletic projects, and Kostas Antetokounmpo is certainly a G-League prospect on Day 1. However, with a brother like Giannis and an excellent size and speed combination, he could turn into something special. Could.
58. Denver Nuggets: Arnoldas Kulboka, SF, Lithuania (19)
For being the third-last pick, Arnoldas Kulboka is a surprisingly popular selection. Hey, the shooting ability and talent is deesrving of a pick.
59. Phoenix Suns: Issuf Sanon, G, Ukraine
Issuf Sanon wasn't on anyone's radar a couple months ago, but his impressive camp performances may be enough for the Ukraining Guard to fight for a pick - and in turn, a roster spot in America.
60. Philadelphia 76ers: Ray Spalding, PF/C, Louisville
Ray Spalding is a very raw Power Forward with the size to handle reps at the 5, and a year in the G League could do wonders for his development as a big man bench contributor.
Other Likely Picks:
Goga Bitadze, C, Rep. of Georgia; Rawle Alkins, SG, Arizona; Gary Clark, SF/PF,Cincinnati; Alize Johnson, PF, Missouri State; Vincent Edwards, SF, Purdue; Devon Hall, SG, Virginia.
---