10 NHL Rivalries to Watch in 2017-2018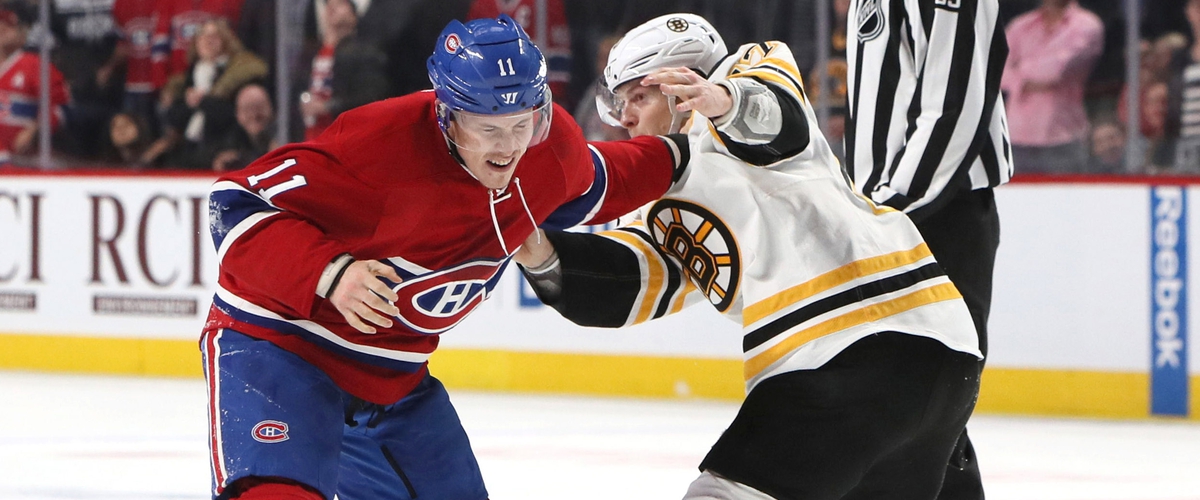 Not all games are created equal in the NHL. While I love hockey and watch as many games as I can, I get a little more excited when the Flyers are playing the Rangers than I do when the Stars are playing the Devils. Rivalries make sports better, especially a sport as intense, emotional, and physical as hockey. Hatred and animosity seem to get kicked up a notch when your sport allows you to literally fist fight players on the other team. That is why hockey rivalries are the best rivalries. The emotion is real, the animosity is real, the excitement is real, and most of all, the punches are real.
Today I'm naming the top 10 rivalries I'm looking forward to watching this upcoming season. These are not necessarily all-time best rivalries, they're just for this year. These are games that if they are on TV, I will be watching. These are matchups that I think are going to be nasty, physical, meaningful, and exciting. The entertainment value will be through the roof when these games take place. These matchups will truly be must-watch hockey.
10- Calgary Flames vs. Los Angeles Kings play 10/11/17, 1/4/18, 1/24/18, 3/26/18
These division rivals had some serious bad blood last season that should continue this year. There is an underlying rivalry here just because these teams are in the same division fighting for a playoff spot. Gasoline got poured on the fire, however, when Flames forward Matthew Tkachuk threw an elbow at Kings star Drew Doughty last season. This led to a war of words in the media and then a nasty matchup on March 29th. I fully expect the Tkachuk vs. Doughty, and consequently, Tkachuk vs. Kings to carry over into this season. On top that, both teams sport fairly tough lineups for today's NHL and both finished in the top 10 for team fighting majors last season. This may not be the best rivalry in the league, but it's one dirty hit away from exploding. Not to mention both teams should be close in the standings this season, and fighting for a spot in the 2018 playoffs.
9- Chicago Blackhawks vs. Nashville Predators play 10/14/17, 10/27/17, 11/28/17, 1/30/18
I know, I know, St. Louis is Chicago's more traditional rival, but this season, I think their games with Nashville are going to be much more heated. St. Louis is boasting a fairly soft lineup without Ryan Reaves, and Chicago has been soft for years. However, Nashville is a very tough team, and have shown in the past that they can get under Chicago's skin. I haven't even mentioned their playoff series yet, in which Nashville man-handled Chicago and swept them right out in the first round. Chicago is going to want revenge for that. Also, these two are going to be duking it out for playoff positioning. I believe Nashville is trending up, while Chicago is trending down. These teams had a two fight game on October 14th last season, met in the playoffs, and are division rivals. I think it will be exciting hockey when these two teams meet this season.
8- Montreal Canadiens vs. Toronto Maple Leafs play 10/14/17, 11/18/17, 3/17/18, 4/7/18
These Canadian and division rivals have a long history of animosity and bad blood. While this has not been the most heated rivalry of late, a few fights here and there, I believe it's going to kick up a notch this season. Toronto is finally good again after years of being awful, and Montreal is trying desperately to hang on as one of the top teams in the East. I think every game between these two teams is going to be important, and I think Toronto is the better team for the first time in years. Look for these games to be intense and action packed. Unfortunately because it is an all Canadian matchup, it will be ignored by NBC and I will not get to watch any of these games.
7- Boston Bruins vs. Toronto Maple Leafs play 11/10/17, 11/11/17, 2/3/18, 2/24/18
Toronto makes this list again, this time with long time division rival Boston. This rivalry has been very on and off in recent history. If both teams are good, it's on. If one team is bad, it turns off. Luckily for us fans, both teams were playoff teams last year, and are hoping to return to the postseason again in 2018. This rivalry started to pick up steam last season, not with a ton of fights, but with a lot of chippy play and scrums after the whistle. With both teams contending for a playoff spot for the second straight season, I think we could see old time hockey between these teams this year. There is a chance for this rivalry to explode in November when these two play a home and home set on the 10th and 11th. If those games get nasty, this rivalry is 100 percent back, if nothing happens, then it should not even be on this list.
6- Philadelphia Flyers vs. New York Rangers play 1/16/18, 2/18/18, 3/22/18, 4/7/18
No matter what, when these two teams face each other, it gets nasty. We have seen multiple multi-fight games between New York and Philadelphia over the last few years and I see no reason why that shouldn't continue. These teams just flat out don't like each other. Not to mention they are both trying to make the playoffs in the best division in hockey. I fully expect Philadelphia to be in the playoff hunt this season, which is going to ramp this rivalry up even more. These teams don't see each other until January, and then play every month. The games between New York and Philly will be meaningful, important games. They also will be nasty and emotional games. I cannot wait to watch these guys face off this season.
5- Pittsburgh Penguins vs. Washington Capitals play 10/11/17, 11/10/17. 2/2/18, 4/1/18
Not only are Pittsburgh and Washington division rivals. Not only do we have the whole Crosby vs. Ovechkin matchup. These two teams faced off in a nasty playoff series last year that went a full 7 games. While NBC has been touting this as one of the best rivalries in the NHL for years, I normally would not have even had it on this list. Neither team boasts a particularly tough lineup, nor are games between these two usually ever overly physical. Both of those things will change this year I believe. Washington roughed up the Penguins in the playoffs, especially Sidney Crosby. Even though Pittsburgh won the series, they took note of Crosby's rough treatment. So what did they do about it? They added one of the most intimidating players in the NHL in Ryan Reaves. Tom Wilson better watch out. So while neither team is going to compete for most fighting majors in the league, Pittsburgh now has a legitimate fighter in Ryan Reaves, and Washington still has Tom Wilson. Add last year's playoff series on top of that and I think this rivalry really heats up this season. Not to mention the playoff race both teams will likely be embroiled in.
4- Anaheim Ducks vs. Calgary Flames play 10/9/17, 12/29/17, 1/6/18, 3/21/18
This is another rivalry that has gotten bolstered by a playoff matchup. The pot really started to boil in the regular season last year, when we saw multiple fights between the Ducks and Flames. They then went and met in the playoffs, where Anaheim just flat out embarrassed Calgary. Both teams feature tough lineups and will be fighting for a playoff spot in the Pacific Division. Everything from last year should carry over and then some. These will be some very heated games this year.
3- Pittsburgh Penguins vs. Philadelphia Flyers play 11/27/17, 1/2/18, 3/7/18, 3/25/18
The Battle of Pennsylvania has always been one of my favorite rivalries. It has calmed down though the last couple of seasons. Fortunately, I see that changing this year. It was not too long ago, in 2013, when these two teams were turning a playoff series into a bloodbath. Now, Pittsburgh no longer has the lineup for a bloodbath, but they do have Ryan Reaves. I believe Philadelphia will be much better this season, which means a playoff spot could be on the line. This rivalry should begin to heat up again. I don't see it getting to the level it was in the early 2010s because neither team have the fighters for that. I do expect four very intense games, however, and at least a couple of scraps over the course of the season.
2- Boston Bruins vs. Montreal Canadiens play 1/13/18, 1/17/18, 1/20/18, 3/3/18
Obviously I was not going to leave the best rivalry in NHL history off the list. Boston vs. Montreal is going to be incredible this season, I think the best it's been in years. Both teams are going to be fighting for a playoff spot, maybe even the last spot. Last year Torey Krug laid out Andrew Shaw and fought twice against Montreal. This year, I think there are even more fights between them. Montreal has their toughest lineup since Brandon Prust left and will not back down with Claude Julien at the helm. I look for this rivalry to really heat back up this season, maybe even up to the level it was in the late 2000s early 2010s. This will be must watch hockey and I will not miss a minute.
1- Anaheim Ducks vs. Los Angeles Kings play 11/7/17, 11/25/17, 1/13/18, 1/19/18, 3/30/18
This California rivalry has been my favorite rivalry over the past couple of seasons. It seems like every time these two meet, it is a bloodbath. Both of these teams feature very tough lineups, and are always near the top of the league in fighting majors. Last season, on November 1st they had a 4 fight game. In total, Ducks vs. Kings matchups last season brought us 8 fights. Over the past few years, this has been the most heated and most fight-filled rivalry in the NHL. It is my favorite again this year. I won't be able to watch all of the games, but if NBC shows any, I'll be watching.