What if the Thunder miss the playoffs?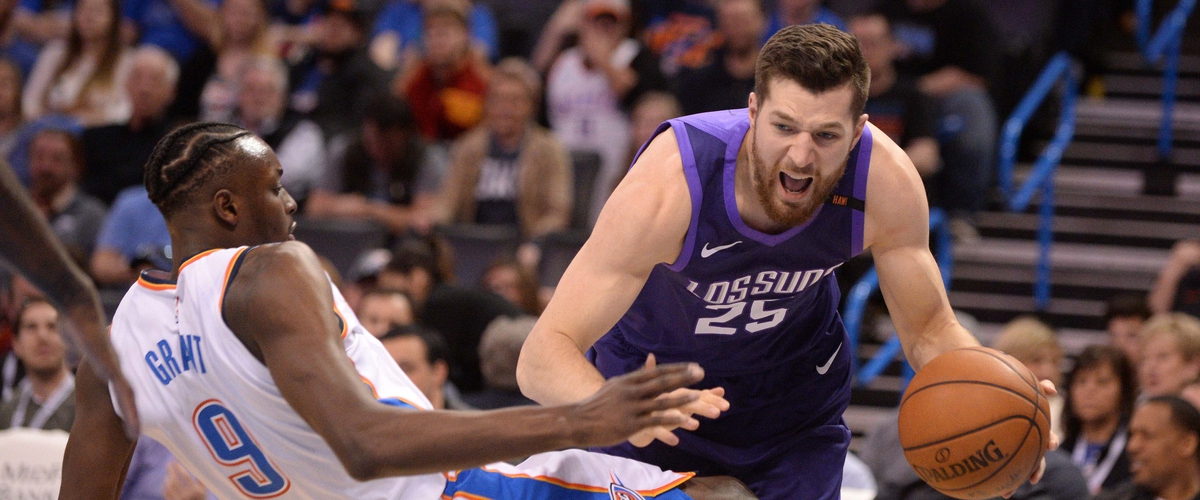 The Oklahoma City Thunder are left licking their wounds after a pair of losses to Western Conference foes that allowed OKC to tumble down to the 7th seed in the ultra-competitive Western Conference. With the race still so tight, the Thunder have a shot--albeit seemingly an outside shot--at the 3rd seed.
For the first 66-games, Thunder fans have tried to run and hide from facing reality that there is a shot this team littered with all star caliber players and future hall of famers, could in fact miss the playoffs. Now, much like there is an outside chance this team claws their way to a 3-seed, there is only an outside chance they actually miss the playoffs entirely.
Nonetheless, let's work under the assumption that the beloved Thunder miss the playoffs and are sent home after the April 11th game against the Memphis Grizzlies.
Would the Thunder fire Billy Donovan? Paul George is surely gone, right? Carmelo Anthony is totally going to opt-in and collect all that money no matter what, isn't he? Trade Russell Westbrook, Steven Adams? (No, do not stop reading yet...please clap), When can the Thunder find another super-star to play with Russell Westbrook?
Again, before we get into the article, the Thunder will not miss the playoffs. However, even if they do make the playoffs, some of these situations still apply.
Fire Billy Donovan?: The coach that helped win Florida two-straight titles took his talents to the NBA to pace the sidelines in Oklahoma City. In his NBA career he has been dealt a bad hand. Promised the star power of Russell Westbrook and Kevin Durant for the foreseeable future, before the unforeseen event that saw Durant head west to link up with the Warriors, he has had a crazy amount of roster turnover in his NBA tenure. However, even with that qualifier he still has a few red marks on his resume. He constantly tinkers with lineups and rotations which one could argue makes it harder for guys to get into a rhythm--and they are right. He also plays his stars a ton, giving them almost no rest even when a game is out of reach one way or another. In college, this is common, however over the course of an 82-game NBA season this is malpractice. The last of the "big 3 problems", he is not a very good in-game adjuster. This is made up for in the playoffs, as he is very good at adjusting between games in a 7-game series. Are these issues frustrating? Yes. Has Billy Donovan been dealt a bad hand? Yes. Is his NBA coaching career over? No, not if he doesn't want it to be. Should he actually be fired? No, probably not. Would I be upset, or shocked if he was shown the door? No.
Does Paul George leave Russ holding the bag?: Since the Thunder acquired Paul George, the NBA world has spent their time assuming he would high-tail it to LA after the season. This has been hanging over the heads of Thunder fans, and the organization all year long. No matter what happens of course we will get our answer in the coming months, but missing the playoffs all but assures he is gone. The Thunder will be spending the most important month of the season trying to woo the all star to at least give it another go in OKC next year with Andre Roberson back in the fold come next December.
Trading Steven Adams (Or Russell Westbrook?): Well, no. Not yet. Moves like these would not happen next year, or the year after. However, we have seen this team when it was just Russell Westbrook putting a team, organization, and city on his back. Yes, he is incredible in that role. Fans love him, and it is historic to watch, but this is still a business. If sports over the last decade have taught us anything, it is that it is better to be dreadful than mediocre. As long as Russell Westbrook is the point guard dawning Thunder blue and electrifying Oklahoma City, the Thunder will not be bad enough to get the draft capital needed to turn this team back into a championship contending bunch. We also all know the struggles of attracting free agents to bricktown. This is a scary thought, and no one wants to see the MVP, future Hall-of-famer, and all time great get moved, but would it be best for the organization? If you take emotion out of it, yes. However, taking the emotion out of sports is almost impossible.
For more news, notes, and opinions on your Oklahoma City Thunder, follow @Rylan_Stiles and @LoudCityPod on Twitter.
---