Russell Westbrook makes history in Thunder win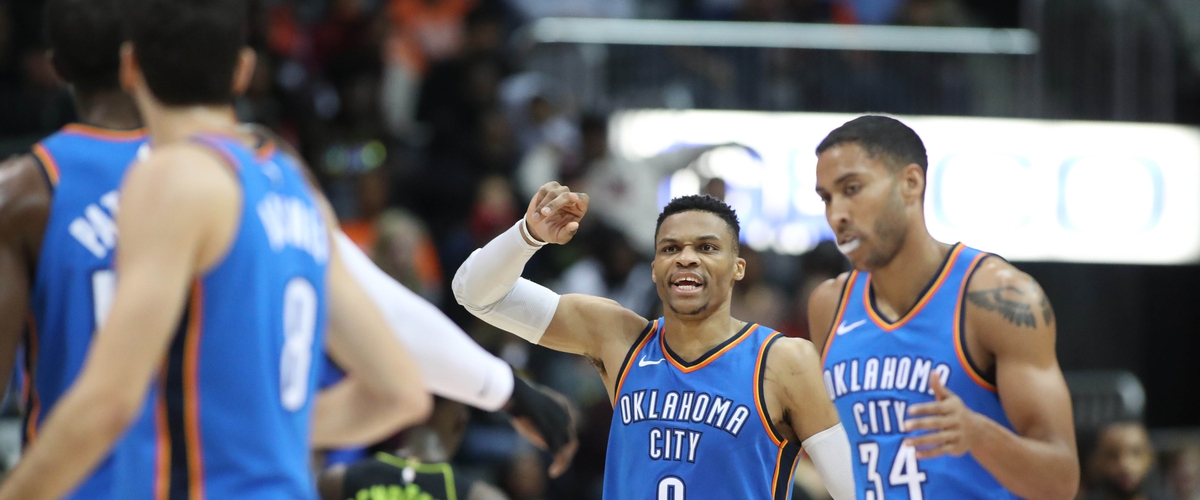 On Tuesday night in Atlanta on the second night of a back-to-back the Thunder were without Steven Adams. That did not stop the Thunder from rattling off yet another win, beating the lowly Hawks 119-107. This night started out poor for Oklahoma City, like most do, but it finished up with star point guard Russell Westbrook making history.
Westbrook posted a 32-12-12 stat line, good enough for his 100th career triple-double. The 29-year-old becomes the 4th player in NBA history to ever accomplish that feat. Oscar Robinson, Magic Johnson, and Jason Kidd are the only players ahead of Russell Westbrook for most career triple doubles. Westbrook is just 7 triple doubles away from Jason Kidd, and 38 away from Magic. While both of those are obtainable, chasing down the big O will be tough. Westbrook would need to turn in 81 more triple doubles to become the triple double king.
Playing on the second half of a back-to-back Carmelo Anthony still shot over 50% from behind the arc, to the tune of 21-points, and 3-blocks. Jerami Grant posted 20-points, shooting over 50% in 32-minutes. Billy Donovan started the young Dakari Johnson in place of Steven Adams Tuesday night, but sat him down in favor of Grant as the game went on. Johnson played just 6-minutes.
Paul George scored just 12-points while taking 12-shots. The struggles continue for George who has not been the same post all star break.
In the last ten games the Thunder are 7-3, and riding a 4-game-winning-streak, good enough for 4th in the west. The Thunder have a tough week ahead. After hosting the Clippers Friday night, the Thunder travel to Toronto Sunday, and Boston on Tuesday, before wrapping up the week hosting the Heat on Friday and Blazers on Sunday.
For more Thunder news and notes follow @Rylan_Stiles, and @LoudCityPod on twitter, and check out the Loud City Podcast on iTunes.
---