Bryce Harper Wins Home Derby, 2018 Derby Analysis and Prediction Review
As Bryce Harper hit his 19th and final home run to win it in bonus time, he flipped his bat, pumped his fist, and then gave the trophy to his father who pitched to him at the Derby. It was a night to remember for Harper and his father as the Nationals slugger won the 2018 Home Run Derby in his home ballpark sending the crowd into an absolute frenzy. He knocked off Kyle Schwarber of the Chicago Cubs who finished the finals with 18 home runs and came off two impressive performances in the first round and semifinals, Schwarber seemed to have the momentum but Harper made a thrilling comeback.
All night the crowd was electric, the matchups were nail-biting, and then the finish was heart stopping. The 2018 Home Run Derby delievered on all accounts Monday night as eight sluggers went at it with a chance to be crowned Home Run Derby champion. It was a night to remember and today on MTV's Hot Takes we break it down as well as take a look back at my predictions for the Home Run Derby to see how they (surprisingly) measured up to what transpired last night.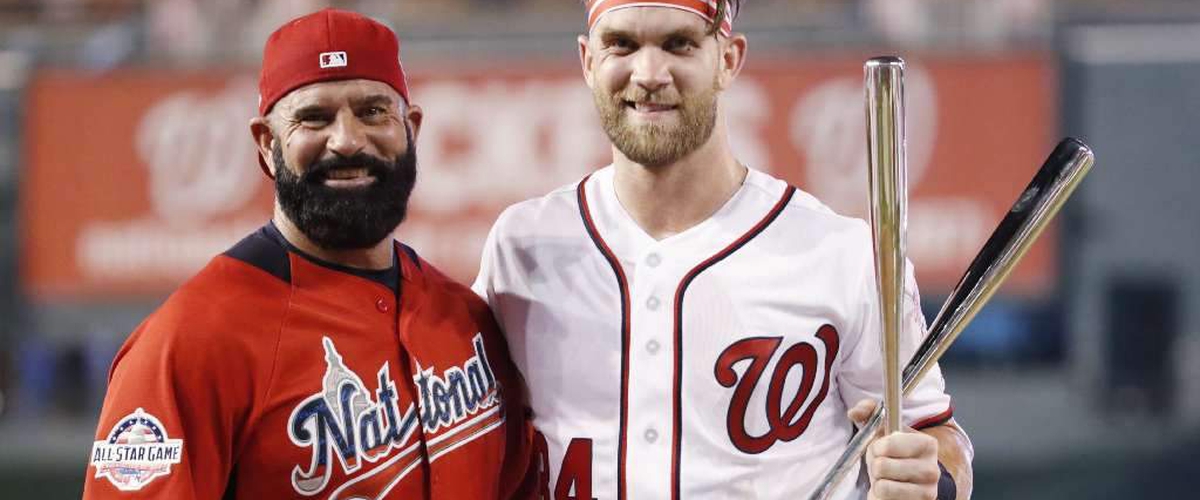 First Round Matchup Reviews
#1 Jesus Aguilar, Milwaukee Brewers vs. #8 Rhys Hoskins, Philadelphia Phillies
Coming in as the underdog, Rhys Hoskins clearly had to prove himself against the top seed of the Derby in Jesus Aguilar. After taking the first few pitches, Hoskins took two straight pitches out of the park and then settled down for a bit. But the right handed hitter from the Phillies was nowhere near done in this one as he took three straight out of the ballpark to reach 5 home runs before taking his timeout with 2:05 left in his round. He then ended up hitting six straight home runs to further his total to 11 home runs as time continued to tick down. But Hoskins still was not done as the final 30 seconds rolled around and he began to pick it up again. In those final 30 seconds, Hoskins managed to hit four more home runs with his longest of the round going 463 feet. He did not get the bonus since he did not hit two home runs over 440 feet, but finished the round with 17 home runs. This would be quite a hefty number for the top seeded Aguilar to try and match.
So up stepped Jesus Aguilar having to beat that 17 home run mark and similar to Hoskins he took a few pitches before hitting out two in a row. Halfway through the round, Aguilar was at six home runs and did not call his timeout until 1:34 remained in the round when he had just seven. The main issue with his approach was the height at which he was hitting the baseballs made it difficult for him to get more pitches. In the Derby, a pitch cannot be thrown until the previous ball hits the ground or seats, something Aguilar's hits were not doing very fast. Couple this with him taking his time during the round and it spelled elimination for the up and coming Milwaukee Brewer. He finished the round with 12 home runs which was not enough to beat the 17 long balls Hoskins had in his time at the plate.
Winner Prediction: Rhys Hoskins
Winner: Rhys Hoskins (17-12)
#4 Alex Bregman, Houston Astros vs. #5 Kyle Schwarber, Chicago Cubs
In this one, Kyle Schwarber came out swinging pretty quickly and had 448 foot shot in the early going. However, he slowed down soon after and called timeout with 2:29 remaining and just four home runs to his name. But then came the power from Schwarber as he began to take multiple shots into the upper deck following the timeout. The left hander had 10 home runs going into the final minute of the round and finished his four minutes with 14. But since he hit at least two home runs over 440 feet, he would get an extra 30 seconds of time to add to his total. After struggling for the first 20 seconds, the Chicago Cub hit a shot into the third deck in right field and another shot to left field as time expired to finish with 16 home runs in the round.
The only representative from the American League in the Derby, Alex Bregman from the Houston Astros had a tall task to advance to the next round. He took the first ball he saw deep before slowing down a bit, but still hitting the ball at a pretty consistent pace. With 2:04 remaining, Bregman called timeout with seven home runs and still needing 10 more to advance to the next round. The right hander was yet to earn his bonus and many of his hits were line drives since that is typically what he is known for with his swing as opposed to power. As time winded down, Bregman trailed by five home runs as he started to catch fire and trailed by just two with 30 seconds left. Down to 10 seconds, Bregman trailed by one home run and hit two shots deep to left field that looked like they were getting out of the park, but both came up short and the final one hit off the middle of the wall. With that, it would be Kyle Schwarber who survived to move on and face Rhys Hoskins in the semifinals of the Derby.
Winner Prediction: Kyle Schwarber
Winner: Kyle Schwarber (16-15)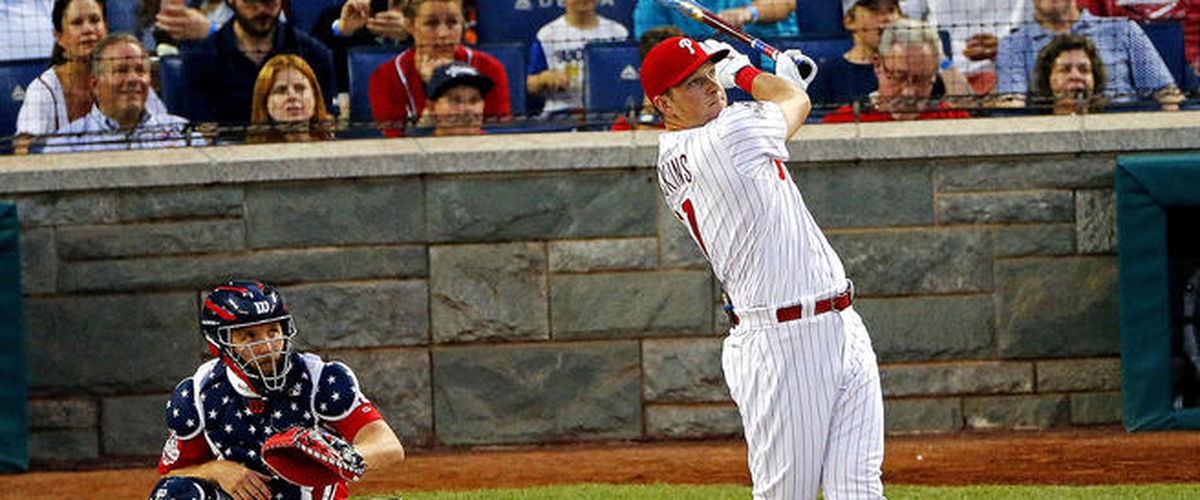 #3 Max Muncy, Los Angeles Dodgers vs. #6 Javier Baez, Chicago Cubs
After an electrifying matchup between Schwarber and Bregman, it would be a tall task for Baez and Muncy to measure up with. It took some time, but Baez started to get going, but his third and fourth home runs went 479 feet and 443 feet to earn his 30 seconds of bonus time early on. With just under two minutes to go, Baez called his timeout having hit six home runs and bonus time following the end of his round. Out of the timeout, he slowed down a bit before hitting a groove towards the end of his initial four minutes in which he hit four straight home runs to head into his extra 30 seconds with 14 home runs. The extra time yielded another two home runs for Baez to help him finish with 16 home runs, a tough task for Max Muncy from the Dodgers.
After starting the season in the minor leagues and proving himself with the Dodgers, Max Muncy was out to prove he belonged in the Derby. Muncy wasted no time taking the ball out of the park, hitting six home runs in the first minute of his round and making it look effortless. He began to waver a bit and called timeout with 1:56 remaining in the round and eight home runs after a strong first minute. Trailing by eight and needing nine to advance, Muncy needed to get into a groove to advance and started to get going following the timeout. Even though he did not have the benefit of the extra time, he would not need it. Muncy had 16 home runs with just over 40 seconds left and walked out of the box with his round-winning 17th home run of the round with 35 seconds left. His longest home run traveled just 435 feet
Winner Prediction: Max Muncy
Winner: Max Muncy (17-16)
#2 Bryce Harper, Washington Nationals vs. #7 Freddie Freeman, Atlanta Braves
It was hometown representative versus division rival in this matchup as Bryce Harper took on Freddie Freeman for a chance to face Max Muncy in the semifinals. Freeman did not have much going for him in the first minute or so and even had some shots go short to the opposite side of the field. He called his timeout with 1:55 remaining and just six home runs so far, none of which were anything incredibly amazing for Freeman. But like most players in the Derby during the first round, he benefited from the timeout and took three more home runs out in quick manner. As quickly as he heated up, Freeman also got tired fairly quickly, but finished with two straight home runs as time expired to end his round with 12 home runs with Harper coming up to the plate with the crowd behind him.
With the crowd on their feet chanting "Lets Go Bryce!", up came Bryce Harper in his home ballpark and a chance to advance to the semifinals. By the end of his first minute, Harper had four home runs and his bonus after hitting two over 440 feet. He tacked on four more home runs in the next round, including a ball that traveled 467 feet nearly the final row of the lower deck in left-center. Harper finally called timeout with 1:36 left, nine home runs which put him three behind Freeman, and his 30 second bonus still to go. With one minute left, Harper trailed by just one home run and lined a shot to left for his 12th home run to tie Freeman. With about 30 seconds left, his 415 foot shot to left-center pushed him past Freddie Freeman into the next round against Max Muncy.
Winner Prediction: Bryce Harper
Winner: Bryce Harper (13-12)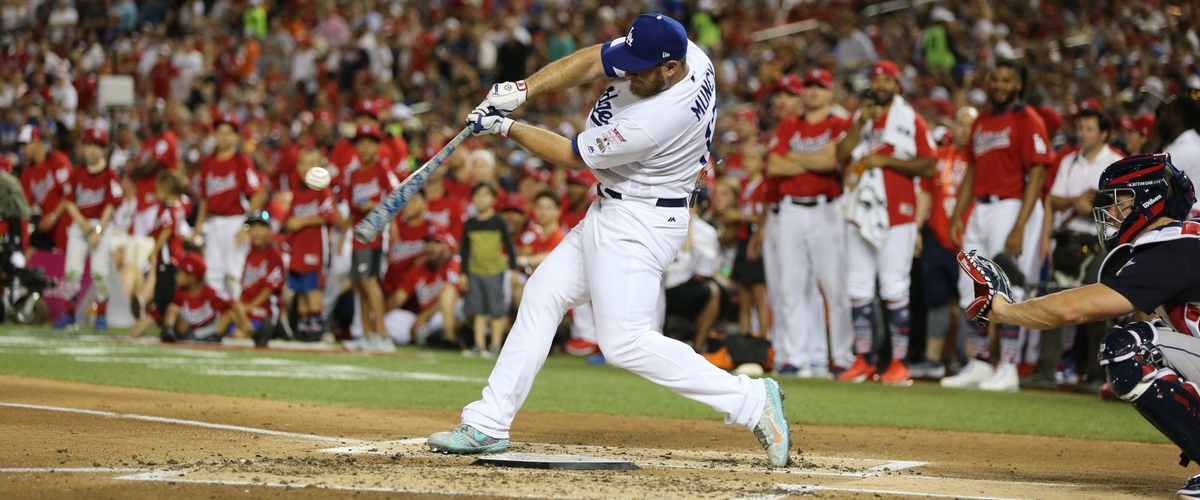 Semifinal Matchup Review
With the first round matchups complete, the semifinal matchups were the following:
#5 Kyle Schwarber, Chicago Cubs vs. #8 Rhys Hoskins, Philadelphia Phillies
#2 Bryce Harper, Washington Nationals vs. #3 Max Muncy, Los Angeles Dodgers
After explosive first rounds by all four of these players, the semifinals were sure to excite with a bid to the finals on the line. But who would emerge from the field as fatigue sets into the competition in the later rounds of the Derby?
#5 Kyle Schwarber, Chicago Cubs vs. #8 Rhys Hoskins, Philadelphia Phillies
After knocking off Jesus Aguilar in the first round by a final score of 17-12, Rhys Hoskins was back in the box against Kyle Schwarber with an opportunity to play in the finals against either Max Muncy or Bryce Harper. It took about 20 seconds, but Hoskins quickly got into his groove and by the end of his first minute he already had five home runs in the semifinals and two 440+ foot shots to earn his 30 second bonus. By the time he called his timeout with 2:04 left, Hoskins already had eight home runs to follow up his 17 home run performance in the first round. Similar to last round, he found his groove following the timeout and had six more home runs with 30 seconds remaining. Ending his initial four minutes, Hoskins had 19 home runs before knocking out another home run in his extra 30 seconds to give Kyle Schwarber the tall task of hitting 20 home runs to match him.
Faced with this tall task, Kyle Schwarber needed to get going as quickly as possible. He had a rough start before getting into a groove that featured five straight home runs to push his total to six for the round. As he hit the halfway point of his round, he had eight home runs and quickly added three more to reach 11 with 1:40 remaining. He called his timeout with 1:32 left in the round and 12 home runs so far, if Schwarber was going to advance he would need at least eight home runs to force a swing-off and nine home runs to win. With just under a minute left, he earned his bonus and had 14 home runs. But Schwarber still was not done as he got on a roll and hit seven home runs in the next 50 or so seconds to win the round with 21 home runs in an electrifying semifinal matchup.
Semifinal Winner Prediction: Kyle Schwarber
Winner: Kyle Schwarber (21-20)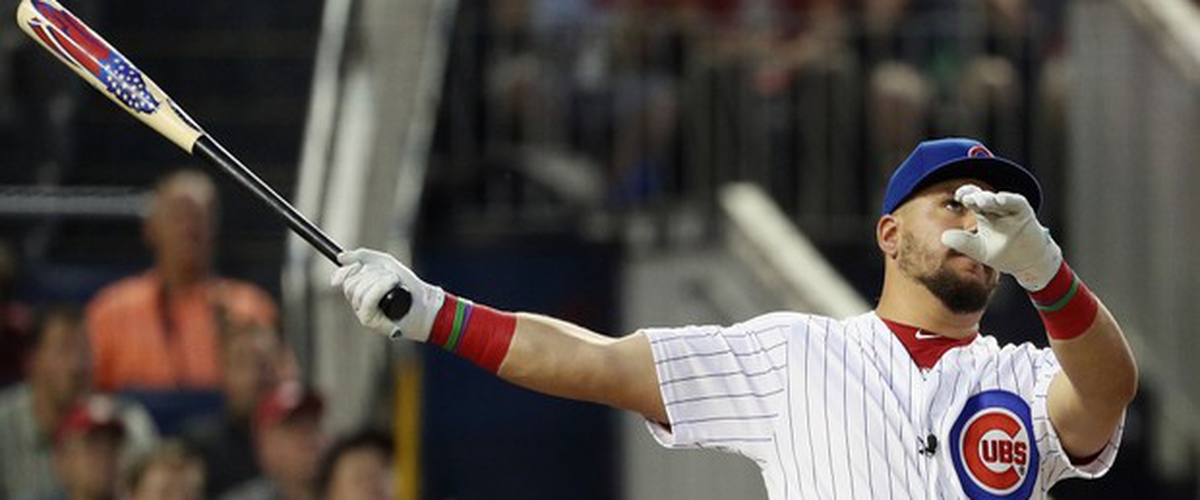 #2 Bryce Harper, Washington Nationals vs. #3 Max Muncy, Los Angeles Dodgers
After Max Muncy put together an impressive performance in the first round against Javier Baez to win with 17 home runs and over 30 seconds left, he was faced with the task of taking down Bryce Harper who had the home crowd behind him and would hit after him. As he seemed to swing effortlessly, he had six home runs with 2:30 remaining and no home runs over 440 feet which would put him at a disadvantage over Bryce Harper seeing he did not have that extra 30 second to enlarge his total. With 1:53 to go, Muncy called his timeout with seven home runs and still a chance to get that bonus. Over the course of the next minute, he took four more baseballs out to left field to reach 11. But contrary to his first round performance in which he hammered out nine more home runs in the final minute and a half of his round, Muncy limped to the finish line and had just 12 home runs for the round.
With a low total by Muncy, Bryce Harper having hit just 13 home runs in the first round and an extra 30 seconds to work with clearly had the advantage in this matchup. But he was slow out of the gate and had just three home runs in the first minute and in desperate need of a groove. As he reached the halfway mark, the crowd got into it and hammered out seven home runs in a minute. Having already earned the 30 second bonus and trailing Muncy by two home runs, Harper called timeout with 1:33 remaining in the round. The Nationals outfielder wasted no time following the timeout and with the crowd getting louder, Harper hit three straight home runs to win the round with over a minute left to earn a date with Kyle Schwarber in the Home Run Derby final.
Semifinal Winner Prediction: Bryce Harper
Winner: Bryce Harper (13-12)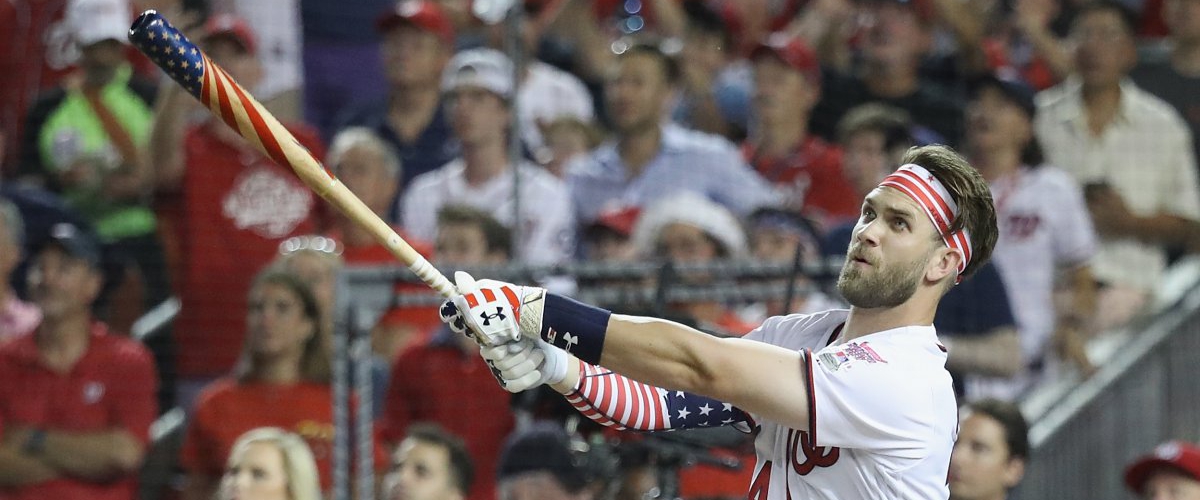 Home Run Derby Finals Matchup Review
Following Kyle Schwarber's amazing performance to beat Rhys Hoskins in a matchup for the ages and Bryce Harper's seemingly effortless round to beat Max Muncy, the finals matchup was the following:
#5 Kyle Schwarber, Chicago Cubs vs. #2 Bryce Harper, Washington Nationals
Could Bryce Harper use the home-field advantage to help him win the Derby title or would Kyle Schwarber ride the momentum of an impressive semifinal performance to ruin Harper's opportunity at a Home Run Derby title on his home turf? Would MTV's Hot Takes predict the entirety of the MLB Home Run Derby correctly? All these questions were about to be answered in an exciting Home Run Derby final.
#5 Kyle Schwarber, Chicago Cubs vs. #2 Bryce Harper, Washington Nationals
Kyle Schwarber led off the Derby finals and quickly took five baseballs out in the first minute as well as earning his extra 30 seconds by hitting two home runs over 440 feet. In the finals, the hitters get two timeouts and Schwarber took his first with five home runs and 2:50 left in the round. Seeming to be locked in, Schwarber hammered four more home runs quickly before fatigue began to set in and he called his final timeout with 1:49 left and nine home runs. His groove started to come towards the final minute and a half as he tacked on eight more to finish his four minutes with 17 home runs. In his bonus 30 seconds, Schwarber added one more home run to finish with 18 home runs, putting the pressure on Bryce Harper to match an impressive performance.
The entire crowd was on their feet as Journey's "Don't Stop Believin'" played over the speakers and they cheered on Bryce Harper as he stepped into the box. Halfway through the round, Harper was struggling to find his groove, he called his first timeout with 2:38 left and only four home runs. But then the groove came in a short spurt and he earned his bonus as he reached eight home runs. He tacked on another home run and called his final timeout with 1:20 left. If Harper wanted to win the Derby, he would need another run and likely his 30 second bonus to win this one at home. One of the major issues early on with his round was his father's pitching as many pitches began going outside or too far inside to make contact with. But as the final minute came, the magic started to happen as Harper hammered home run after home run to tie Schwarber as time expired at 18 home runs and still his bonus time to go. Having hit nine home runs in the final 1:20 of the four minutes, Harper needed just one more to win it at home and with 23 seconds left of his bonus time his hit to center won it. At Nationals Park in front of the Nationals fans, Bryce Harper was the 2018 MLB Home Run Derby champion.
Home Run Derby Final Winner Prediction: Bryce Harper
Winner: Bryce Harper (19-18)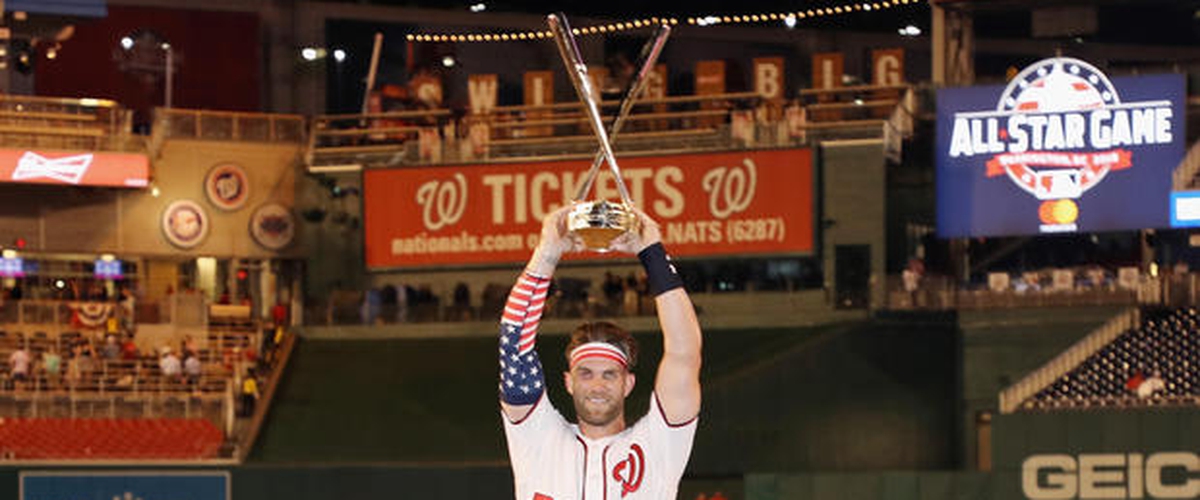 As for the predictions made on MTV's Hot Takes last week, each matchup winner was predicted correctly including the champion. To view those stories and see for yourself, make sure to copy and paste the links below to check it out:
First Round Predictions (7/12/18): https://www.sportsblog.com/mtvhottakes/home-run-derby-participants-announced-first-round-predictions/
Semifinal and Final Predictions (7/13/18): https://www.sportsblog.com/mtvhottakes/mlb-home-run-derby-predictions-semifinals-and-championship/
Questions or comments? Send an email to [email protected] and follow @mtvhottakes on Instagram and Facebook to know when new stories are posted.
---