Familia blows deGrom's gem, Marlins take the rubber game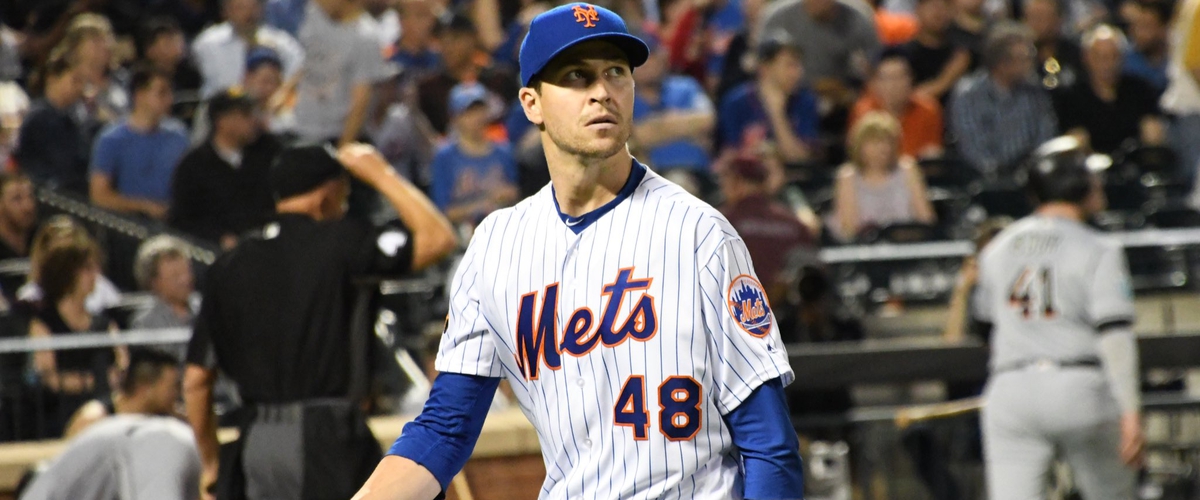 It was quite the bulldog performance from Jacob deGrom. He stumbled in the 4th, allowing 2 singles to the first 3 batters, including a bunt hit by Bour against the shift. A groundball to Cabrera that he slightly misplayed resulted in only an out at second base, but deGrom got Shuck to lineout to right. The inning had all the ingredients for a meltdown inning, but deGrom did not allow a Marlin to touch home.
deGrom struckout 3 in the 5th around a single and HBP as he continued to clearly not have his best stuff, but battle for every out. Interrupting deGrom's dominant performance is the Mets offense, which wasn't able to do much against Dan Straily. Brandon Nimmo provided all the run support deGrom needed with one swing of the bat. A solo home run off the upper deck in right put New York up 1-0, after Amed Rosario just got thrown out trying to steal second after a leadoff hit. The Marlins got 2 on in the 6th inning again after 2 quick outs the Marlins walked and reached on an error, but deGrom once again got out of it with a groundball from Brinson.
deGrom came out in the 7th and with 1 on and 2 out, got Bour to flyout on an up and away fastball, a pitch that Bour has taken out to the opposite field in the past, but Citi Field held it tonight.
After a brilliant 8th inning from Seth Lugo, Mickey Callaway elected to pull Lugo for Familia in the 9th. Familia clearly didn't have his best stuff as a 1 out single and doubled set up the Marlins threat, and J.T. Realmuto blooped a single to center. Michael Conforto came up throwing and gunned down the second runner at the plate to keep it tied at 1, what looked like a game saving play. Familia was determined to fully blow the game however and after an intentional walk to Bour, Starlin Castro delivered an RBI single to put Miami up 2-1. He got Anderson to end the inning, and walked off the mound under a shower of boos from the Amazin Faithful.
A 1-out single by Gonzalez in the 9th got the Mets hopes up a little. Guillorme grounded out and the pinch runner Reyes advanced to 2nd. Wilmer Flores stepped in and Citi Field almost expected some walk off magic once again, but a slow chopped and the slow footed Flores was out at first to end the ball game.
Just a depressing and heartbreaking loss for the Mets. A game that was dominated by Jacob deGrom and the rubber game goes to Miami. The Mets finish the homestand 6-3, still a nice rebound but obviously should have been 7-2. The Mets now go on the road to play 8 games in 7 days, in the ball parks of the NL Central leading Brewers and NL East leading Braves. This one will sting for a while, and there's not a whole lot else to say about it.
---