INDYCAR DRIVER JUSTIN WILSON PASSES AWAY AT AGE 37 (repost)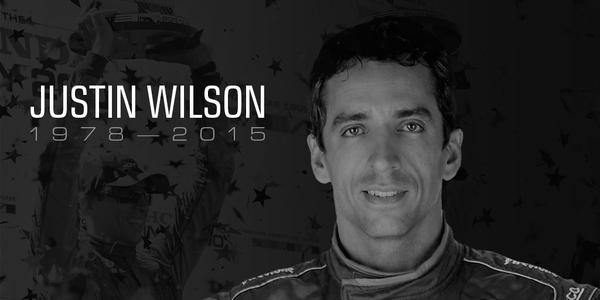 The IndyCar racing series is mourning the loss of one of their own today. Driver Justin Wilson was hit by a piece of debris from the car of Sage Karam during Sunday's ABC Supply 500 at Pocono Raceway after a crash in turn one of the 2.5 mile track. Wilson, 37, is a native of Sheffield, England, who currently resides in Colorado.
Karam's number 8 Chip Ganassi Racing Chevrolet spun out from the lead on lap 179 of 200, hitting the outside wall. The loose nosecone from Karam's car then struck Wilson in the head. Wilson was driving the number 25 Andretti Autosport Honda. The piece appears to have knocked Wilson out, sending Wilson's car into the interior wall. Wilson was then transported by helicopter to a local hospital. He remained there in a coma until succumbing to his injuries late Monday night.
Three-time NASCAR Sprint Cup Series champion Tony Stewart provided his private plane and pilots to the Wilson family to allow members to travel from Indianapolis to the hospital in Allentown, Pennsylvania, where Wilson had been transported.
Indycar series issued this statement, according to a IndyCar.com news article:
"This is a monumentally sad day for INDYCAR and the motorsports community as a whole," said Mark Miles, CEO of Hulman & Co., the parent of INDYCAR and Indianapolis Motor Speedway. "Justin's elite ability to drive a race car was matched by his unwavering kindness, character and humility -- which is what made him one of the most respected members of the paddock. As we know, the racing industry is one big family, and our efforts moving forward will be focused on rallying around Justin's family to ensure they get the support they need during this unbelievably difficult time."
The family released the following statement, also on IndyCar.com
"Justin was a loving father and devoted husband, as well as a highly competitive racing driver who was respected by his peers. The family would like to thank the staff at the Lehigh Valley Health Network Cedar Crest Hospital, Pocono Raceway, Andretti Autosport, and the Verizon IndyCar Series as well as the entire racing community for the amazing outpouring of support from fans around the world."
Wilson is survived by his wife, Julia, and two daughters. His younger brother Stefan is an accomplished race car driver who has competed in the Verizon IndyCar Series and Indy Lights. Funeral arrangements are pending. In lieu of flowers, a fund has been set up for Wilson children. Donations may be sent to: Wilson Children's Fund, c/o INDYCAR, 4551 W. 16th St., Indianapolis, IN 46222.
---