"The Stack" 2-2-18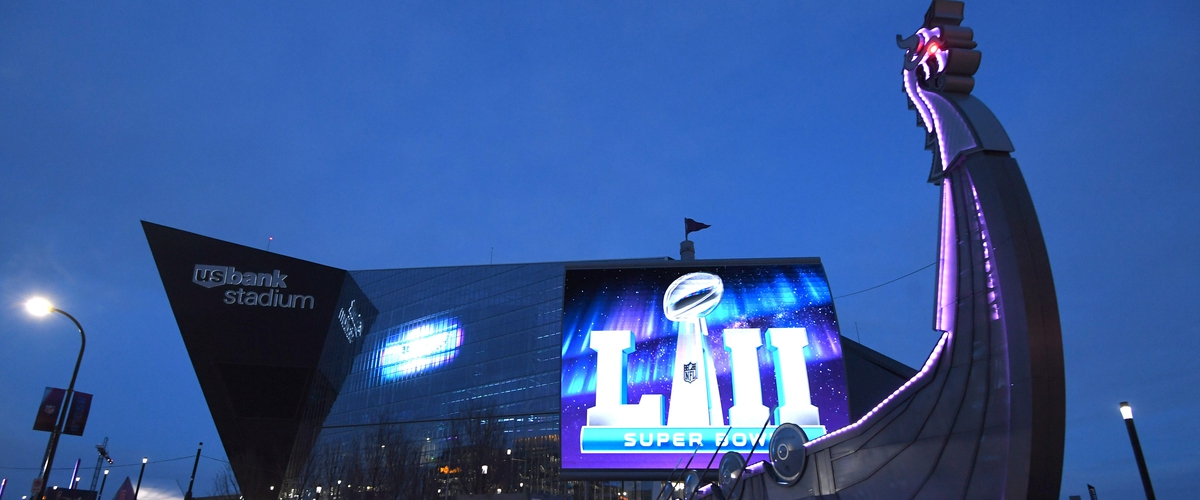 U.S. Bank is the site of Super Bowl LII Sunday between the Eagles and Patriots. Will the Eagles win their first or will the Patriots win their sixth?
The Stack is back on this Friday and yes it is the Super Bowl this weekend. A few other things happened though throughout the week and we tried to get a blog out, but between baby and bronchitis, it just wasn't meant to be. Let's see what we have in "the stack" in addition to the big Super Bowl preview for today, Friday, February 2nd:
Alex Smith traded to Washington
The first domino in the quarterback free agent class of 2018 (heck let's call it the class of 2018 and include the rookies) fell Tuesday night with a shocking trade on Super Bowl week. The Kansas City Chiefs traded Alex Smith #AsExpected, but what wasn't necessarily expected is that the team they traded Smith to is Washington. Yes, Washington. This means that Kirk Cousins will not be back with Washington. Washington traded a third round pick and cornerback Corey Fuller to the Chiefs as part of the deal. That is a decent return for Smith and it now means that Patrick Mahomes is the guy in Kansas City. You might think that Alex Smith is a drop from Kirk Cousins if you are a Washington fan, but their stats are actually very similar and Smith can run better and he takes better care of the ball, at least he did this last year. The big question now is where does Cousins go? The four spots that immediately come to mind in no particular order are Denver, Minnesota, Cleveland and Arizona. The Broncos players are trying to woo Cousins, but if John Elway loves Josh Allen as much as it appears he does, would it make sense to bring in Cousins and then draft Allen? Probably not. The Cardinals definitely need a quarterback. The Browns could use everything and they have the most cap space and the Vikings may need a quarterback if they don't re-sign Case Keenu, Teddy Bridgewater or Sam Bradford. The first quarterback domino has fallen. Where the next one falls is going to be very, very interesting free agency period for the quarterbacks.
Blake Griffin traded to the Pistons
A shocking NFL trade on Super Bowl week and a shocking NBA trade this week as well with the Los Angeles Clippers sending Blake Griffin to the Detroit Pistons for several players and a first round draft pick. The Clippers appear to be taking for next year and this move helps free up more room for LeBron James and you better believe that with Jerry West is going to do whatever he can to help lure The King to the Clippers and not L.A.'s other team, the Lakers. This move also means the Pistons are all in for this year. They are currently on the outside looking in, but between Griffin and Andre Drummond, the Pistons should be able to make a run and make it to the playoffs. It's weird seeing Griffin in a new jersey, especially after the Clippers signed him in the offseason to make him their face of the franchise. That was a quick face. The Clippers organization is getting a face lift. Things in the NBA just got more interesting.
NBA injuries
We've seen our fair share of bad injuries in the NBA this year and it all started out with Gordon Hayward. Things didn't get any better this week. Kevin Love of the Cavs broke his hand and is out 6-8 weeks while Suns guard Isaiah Canaan suffered what appeared to be a Hayward like injury by blowing his ankle out. These are all bad injuries. The Cavs one hurts much more so for Cleveland's season, but at least Phoenix wasn't or isn't going anywhere this year. The Cavs are struggling mightily right now and losing Love I don't think is going to help keep them where they are at. It would not be inconceivable to think that the Cavs may miss the playoffs all together though that is mainly a long shot at this point. Hopefully we're done with the major injuries, because they suck.
Super Bowl LII preview
Super Bowl LII (Minneapolis Minnesota)
Philadelphia Eagles vs. New England Patriots 6:30 PM ET NBC
It's been a great in Minneapolis and the Twin Cities area from everything that I have heard and seen regarding the Super Bowl activities. Sunday afternoon the NFL descends upon U.S. Bank Stadium for Super Bowl LII between the Philadelphia Eagles and New England Patriots. The Eagles are seeking their first Super Bowl championship. The Patriots are seeking their sixth. These two teams met once already in a Super Bowl, what back in 2005 when Terrell Owens played on a broken leg and had a hell of a game, but the Patriots won 24-21 to win their third Super Bowl in four years. The MVP of that game? Nope, not Tom Brady. It was wide receiver Deion Branch. That game was fairly boring despite it only being a three point game. I something similar on Sunday.
The Patriots started out really slow on defense this year, but played much better as the season wore on. The Eagles have been great on defense all year and that was on display in the NFC Championship game. Eagles defensive lineman Fletcher Cox against the Patriots offensive line is the big matchup I am looking at in this one. If the Eagles can disrupt Brady's rhythm and get to him without have to blitz very often, they are going to be very successful on Sunday. The Eagles secondary is good. The big question though is do they have an answer for Rob Gronkowski? Truth be told, I think very few people have an answer as to how to stop Gronk. He's cleared the concussion protocol and you better believe Tom Brady is breathing a sigh of relief that he will be on the field. They'll need him to, because as good as Brandin Cooks is and as well as Chris Hogan has played during his time as a Patriot, that secondary for the Eagles is going to shut them down for the most part. That means that a slot guy like Danny Amendola is once again going to have to come up with a huge game.
The running backs for both of these teams are very good, but they each are good in different ways. LeGaerette Blount and Jay Ajayi love to run downhill. They want contact. They absorb contact. The Patriots defense must get in the backfield and force these guys to the sidelines. That is much easier said than done. Chris Clement is a different kind of running back. He's more of what the Patriots have in James White and Dion Lewis. He could have a major impact on the game. For the Patriots. Rex Burkhead has been tremendous in the games he's played in. He very well could be the difference maker on Sunday. Brady is going to throw to his running back a lot. Can the Eagles linebackers cover the Patriots running backs and not let them get open in the flat and pick up a lot YACs (Yards After the Catch)? If they can, the Patriots could be in trouble.
Nick Foles did not let the pressure or any nerves get to him in the NFC Championship game. But this is the Super Bowl. He's going against Tom Brady. If he can't play like he did in the second half against the Falcons or in the entire game against the Vikings, the Eagles may not have any hope. The Patriots will do what they can to rattle him and force him to make some bad throws. I trust Brady over Nick, but Foles has proven that he belongs.
So who do I like? This is a tough one. It's tough to pick against the Patriots, but it just seems like the Eagles have a better all-around team. If Carson Wentz were playing, I'd reluctantly take the Eagles, but since they don't and they are going against two GOATs (Brady and Belichick) and because they aren't the Giants, I have to lean towards the Patriots. It's going to be a struggle at times and I see a low-scoring affair. It wouldn't be a Patriots Super Bowl if it wasn't close right? Plus Eagles fans don't deserve a Super Bowl. Too many bad people. Not that Patriots fans deserve another one, but I think Sunday night, they'll get another one.
Prediction: Patriots 20 Eagles 17
MVP: Rob Gronkowski
Coming up Monday: Super Bowl LII reaction
---