Wisconsin Badgers vs. Minnesota Gophers Game Preview: How to watch, start time, betting line, and prediction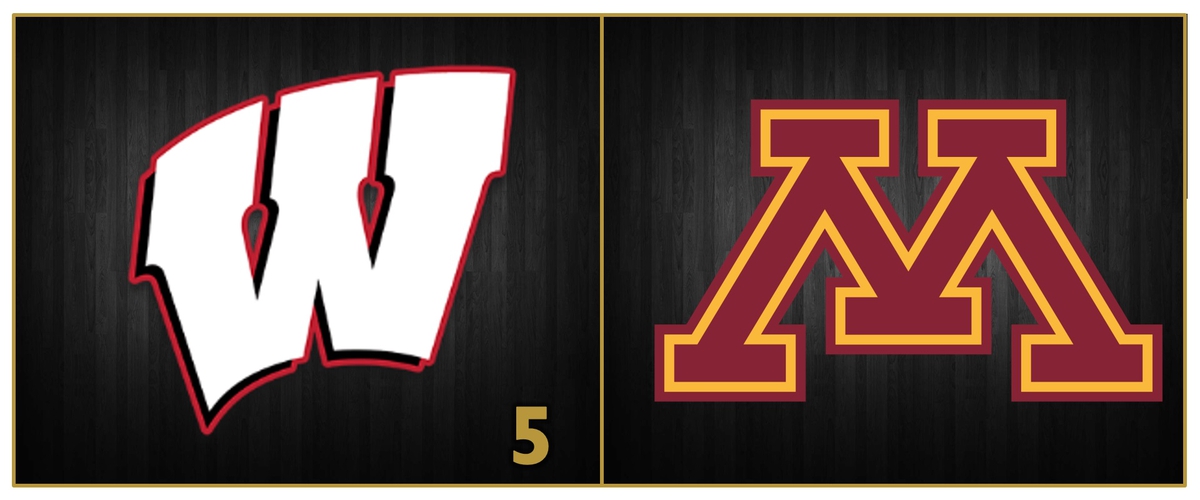 WEEK 13 GAME PREVIEW HOME PAGE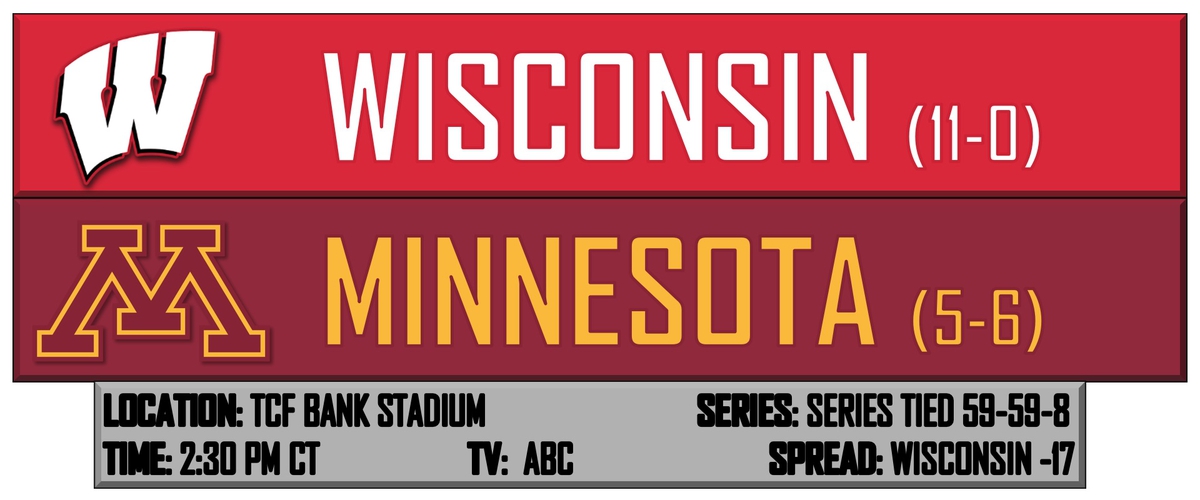 WISCONSIN OUTLOOK
If you're a Badgers fan, you can only think one way: win and your in. It's that simple. There's no reason why Wisconsin won't make the College Football playoff if they win out, and this team just needs to take things week by week. They're going to get in if they win the next two games. No need to panic.
Isn't that sad though that a Power 5 team has to worry about a committee not including them even though they might finish undefeated and win their conference? It's also sad that one conference could get two teams in because the subjective "eye test" is used to justify that decision. When that day comes, there will be no reason to not expand to eight teams. Holy rant, I'm sorry.
Yes, I do have nice things to say about Wisconsin. I know I was mean earlier this week, but this is a solid football team. The Badgers formula for success is the same now as it was the first time Paul Chryst was on campus. Run the ball and play great defense. Why fix something that's not broken? Jonathan Taylor appears to be the next great Wisconsin running back in a long line of greatness at that position. The freshman, yes freshman, exploded onto the scene early this year, and answered any questions fans had. Then, there's the passing game. Alex Hornibrook has the tools to be a good quarterback for this team, but right now he's looking like the left handed version of Joel Stave. Sadly, that's not his fault. Hornibrook's stats this year are already better than Stave's, but fans aren't satisfied. Maybe it's the thirst to make that next step, but I don't see what's wrong with winning football games. Hornibrook still has room to grow, and having Taylor in the backfield with him can only help. Also knowing that the Badgers will have a massive and physical offensive line helps a ton, and that tradition also continues. We've gone this far and haven't even gotten into the defense either.
When Jack Cichy got hurt at the beginning of the year, many thought this group might take a step back. That couldn't be further from the truth. Leaders like TJ Edwards, Conor Seehy, and D'Cota Dixon have stepped up big, and have gotten help from some newer faces. Alec James and Ryan Connelly are two players who have seen more playing time this year, and have not let their coaches down. This is the second best defense in the country because of those players, and it's as if they've taken a step forward from last year. Now, imagine this group with Cichy.
MINNESOTA OUTLOOK
Well, it's not easy to win when you commit five turnovers, including four in your own territory. Minnesota struggled mightily last week against Northwestern, and are looking to put that game, and their struggles in this rivalry in the past on Saturday. We've seen some daunting tasks for this program, but this might be the most daunting of them all. Wisconsin is good. Like really good. They pound defenses with a punishing ground game, and stifle opposing offenses with sound, mistake free defense. If Minnesota's going to win, they're going to need all hands on deck to row a little bit harder.
Wisconsin has won the last 13 straight games against Minnesota, so you don't have to tell these players about it. They're plenty motivated for Saturday. It seems to be the same old story, but Minnesota desperately needs to find a passing game. Wisconsin's defense is the best team in the country at stopping the run (79.4 yards per game allowed on the ground). PJ Fleck and his coaching staff know that the Badgers are going to test Demry Croft and the Gophers offensive line all day. Croft needs to step up in a big way. He has shown flashes of potential, but we've yet to see consistency in his game. This weekend would be a great time for him to start. As for their own defense, Minnesota needs to stop #23.
Wisconsin may be daring Croft to throw, but the Gophers might do something similar to Hornibrook. Stopping Taylor on the ground is going to be tough, but if this defense can force the southpaw to beat them through the air, they have a chance. It's going to be a battle in the trenches, and players like Steven Richardson will need to be prepared for the toughest game of the season up front. The front seven will be busy this game, and will play a big role in determining if this game results in an upset.
PREDICTION
Wisconsin is a team that should be focused on the task at hand. If they win out, they will be in the playoff. Badgers fans need to relax right now, and trust their quarterback more than they did Stave. We know who the better team is in this game, and they've been the better team for the last 13 years straight. If the Badgers are focused, this game won't be close. But because it's senior day, the Gophers are one game away from bowl eligibility, and we're playing for the Axe, this one might be closer than many anticipate.
My pick: Wisconsin 28 Minnesota 21