Oregon State Beavers vs. Oregon Ducks Game Preview: How to watch, start time, betting line, and prediction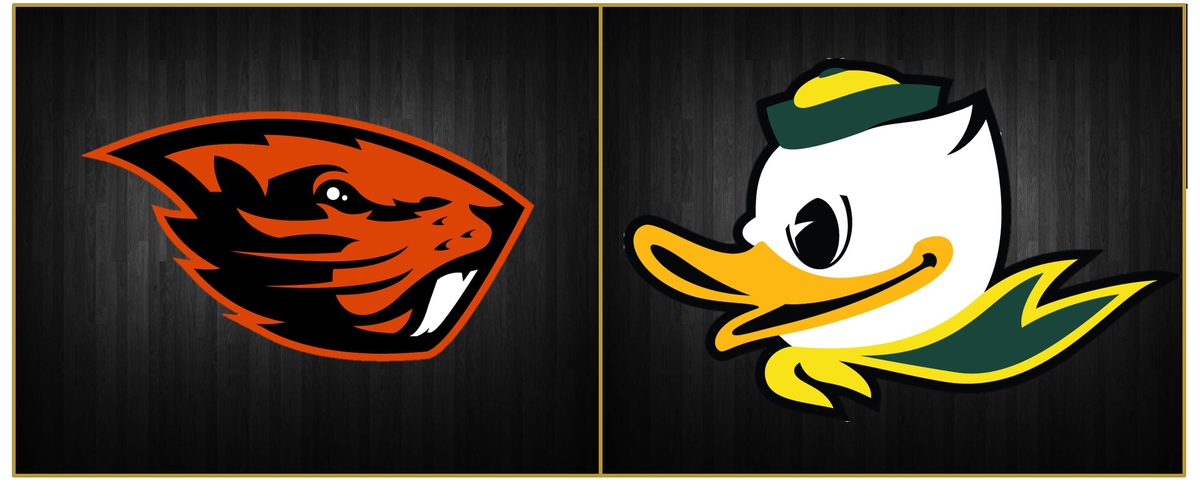 WEEK 13 GAME PREVIEW HOME PAGE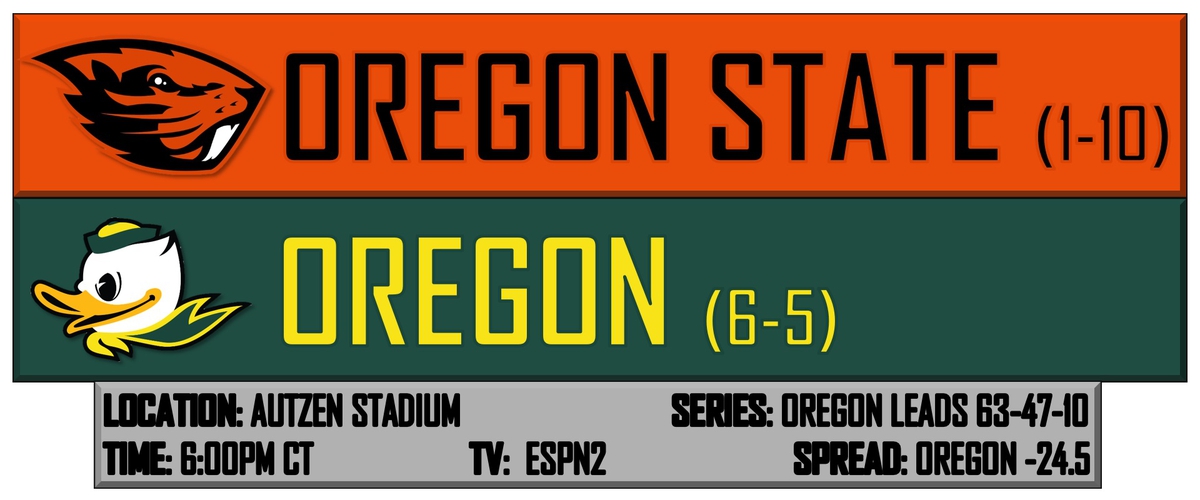 OREGON STATE OUTLOOK
I really feel bad for Gary Andersen. There are some coaches who are just genuine good people, and they don't deserve some of the pressure they receive. Unfortunately, that's the nature of college football, and it is a business in the end. Andersen had indicated that if his team wasn't experiencing success, he would resign. He's no longer with the team after their brutal start, and things haven't gotten much better since he left.
To start the year, Jake Luton appeared to be the answer at quarterback. Giving Ryan Nall a backfield partner that could relieve pressure off of him was just what the Beavers offense needed. 58 points and an L to Colorado State later, and most of the buzz had worn off. Nall is still a great back, but he hasn't received much support.
Frankly, 1-10 almost seems like it's not real. Andersen could have made this team into better than this, but he wouldn't let his kids continue to struggle with him at the helm, and here we are. There's no way they win this game, but it is rivalry week, where weird things happen. Just not this weird.
OREGON OUTLOOK
My, how the Ducks have fallen. Willie Taggert has them back on the way up, but will they ever reach the level they were at under Chip Kelly? And will Kelly take over the conference once again, leaving the Ducks as just an afterthought? We will find out.
Oregon should win this game easily. Oregon State is 120th in the nation against the run, and that's a perfect way for Royce Freeman to finish his career at Autzen. Give me 200+ yards and at least three touchdowns for him. Freeman has been so fun to watch in a Ducks uniform, and it's sad to think that his career is coming to an end. His partner in the backfield might be the future of Oregon, and could bring the Ducks back to being competitors in the Pac-12.
Justin Herbert is back after an injury sidelined him. To say the Ducks struggled without him is an understatement, but his presence was felt last week in their win over Arizona. Herbert's dual threat abilities are what make the offense go, and players like Freeman benefit from him lining up behind center. Now that he's back, the passing game should pick back up, and that makes this Oregon offense lethal once again.
Oregon's defense has improved thanks to Taggert bringing in former Colorado defensive coordinator Jim Leavitt this offseason. While the pass defense needs some work, the Ducks are 29th against the run. Leading the charge is Troy Dye, the Ducks stud linebacker that is all over the field. Dye has 95 tackles, including 13 for loss, and will be a key piece in Leavitt's group for the next couple years. More players like him will help keep the Ducks stout at stopping the run, and that success success should carry over into the pass and scoring defense categories as well. If Taggert wants to bring this group back to the top of the conference, Leavitt is going to play a big role.
PREDICTION
I don't think it's too hard to predict who's going to win. Neither of these teams are where they want to be, but only one is on the right path to getting back. This rivalry won't hold the same entertainment as years past, but the intensity will still be there. For how long is what we don't know.
My pick: Oregon 44 Oregon State 17