Week 13 NFL Power Rankings - Who's Putting Their Best Foote Forward?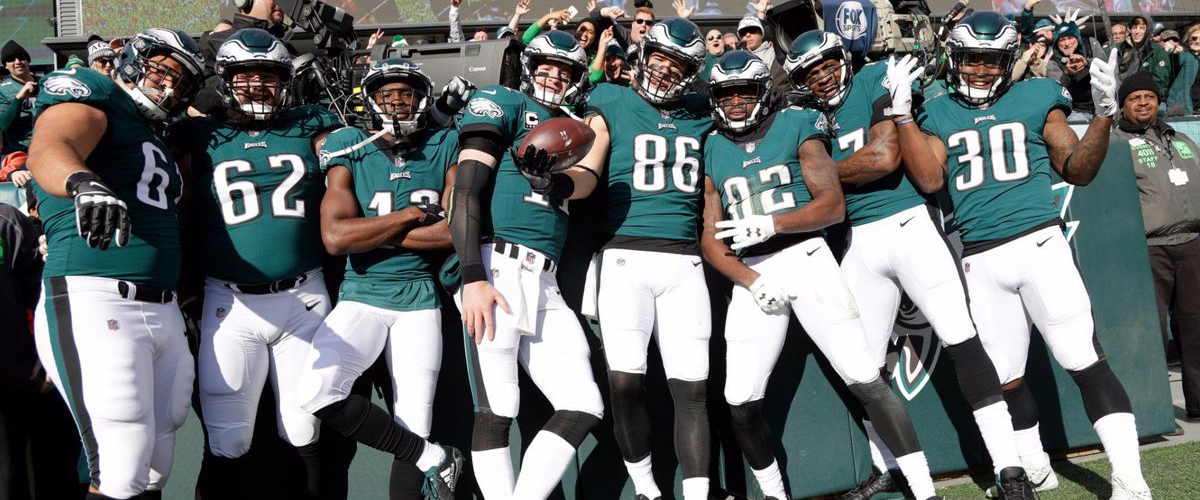 Another week, another set of exciting games in the NFL. The NFC continued to flex its muscles last week while the AFC became a lot more crowded in the middle of the pack. There are still 5 games left in the season for each team to improve and push for a postseason berth. I think you all can guess which teams possess the top and bottom spots in the rankings, but what about in between? Find out in TBFF's Week 13 NFL Power Rankings!
32: Cleveland Browns (LW: 32) 0
This is becoming very, very sad. A few weeks back, I was saying the Browns had a chance to possible grab two wins by the end of the season. Looking at their schedule now, their best chance to win is going to be a game in Chicago on Christmas Eve. We might be looking at an 0-16 team, ladies and gentlemen.
31: Denver Broncos (LW: 30) -1
Denver can't win a game. Aqib Talib is getting pretty good at snatching chains, though. Nonetheless, Denver allowed Oakland to get back into the playoff picture and effectively ended its own season on Sunday. Nothing more to say about this team. Now it's just a matter of figuring out where the team will be drafting in April.
30: New York Giants (LW: 29) -1
The winning was fun while it lasted. Washington was desperate for a win on Thanksgiving as a loss would have likely ended its season. The Giants have nothing to play for besides draft position at this point. Here's a question: Josh Rosen or Sam Darnold?
29: San Francisco 49ers (LW: 31) +2
Jimmy Garoppolo finally got a couple reps on Sunday due to an injury to CJ Beathard. The good news is: Garoppolo threw a touchdown! The bad news is: the team is still undecided on who to start this week. At this point, I think it's time to let Jimmy G do his thing. You've got to see what you've got at QB heading into the offseason, right?
28: Miami Dolphins (LW: 27) -1
Things are getting ugly for the Dolphins. A few weeks ago, the team was squarely in the playoff picture and things weren't looking that bad. As of this week, the 'Fins will likely have to win out in order to make the postseason. With games against the Patriots, Chiefs and Bills (twice) left on the schedule - it isn't happening.
27: Chicago Bears (LW: 25) -2
Mitchell Trubisky took a huge step back on Sunday against the Panthers. How about a 38.3 passer rating? No touchdowns and two interceptions sound good? How about a whopping 51.5% completion rate? All of these are huge red flags but I suppose facing the outstanding Eagles' defense is a decent excuse.
26: Indianapolis Colts (LW: 28) +2
Indy rises two spots despite losing because the team continues to play tough. With games against the Jaguars, Bills and Ravens still left on the schedule, this team has a chance to shake up the AFC playoff picture in a big way. Jacoby Brissett doesn't look like a franchise QB anymore, but he's still not playing to lose.
25: Tampa Bay Buccaneers (LW: 24) -1
Tampa lost last week and is now coming back down to earth. 4-7 is not what many expected at this point in the year, but it's fitting considering what all has happened this year. Jameis Winston is allegedly going to be cleared this week and if he returns, can he eat a W against the Packers?
24: Houston Texans (LW: 23) -1
Houston continues a slow slide down the rankings. The Texans played Baltimore tough, but couldn't win to gain any ground in the playoff picture. It's over for this squad.
23: Arizona Cardinals (LW: 26) +3
How about those Cardinals? If this team were in the AFC, it could possibly be the 8th seed. With the 7-4 Falcons currently occupying the 6th seed in the NFC, it would take a miracle for the current 12th-seeded Cardinals to fly up the ranks and secure a playoff spot. It's nice to get closer to .500 with a win against a potentially playoff-bound opponent, though.
22: New York Jets (LW: 21) -1
The Jets have joined the Dolphins in the club of "we have to win out in order to have a shot at making the playoffs." Just like the 'Fins, it's not going to happen for the Jets. Too little time left in the season and too many teams fighting for spots.
21: Green Bay Packers (LW: 22) +1
Green Bay played a very good game against the Steelers on Sunday night. Brett Hundley had his best game of the season and now has to face the Buccaneers and Browns the next two weeks. If he can win both of those and leave Aaron Rodgers a 7-6 team to work with, the playoffs are still a distant possibility. Rodgers would have to beat Carolina, Minnesota and Detroit AND have a lot of luck in terms of tiebreakers.
20: Dallas Cowboys (LW: 13) -7 *BIG FALLER*
Dallas is nothing without Tyron Smith and Ezekiel Elliot. It's evident. Dak Prescott is playing horrible football right now and there is no one else to pick up his slack. On an off day, Zeke could have carried the team to a win. Alfred Morris is not Zeke.
19: Cincinnati Bengals (LW: 20) +1
Cincinnati picked up an easy win against the Browns on Sunday and is now 5-6 on the season. In the AFC, that puts the team right in the middle of the playoff hunt. With matchups against the Steelers, Bears, Vikings, Lions and Ravens still to go, the Bengals can only afford to lost one of them to make the postseason.
18: Oakland Raiders (LW: 19) +1
Oakland is in the same boat as Cincinnati in terms of record. A team that many began to write off is now right in the middle of the hunt for an AFC West title thanks to the Chiefs forgetting how to win. If Oakland wins its next two games (Giants, Chiefs) and the Chargers lose one, you'd be looking at a first-place team in that division in Oakland.
17: Kansas City Chiefs (LW: 11) -6 *BIG FALLER*
What happened? Alex Smith was an MVP candidate a month ago, now he's playing like Tom Savage? The defense that was among the worst in the NFL has now played two good games in a row but the offense has went way south. Things need to shape up quickly for the Chiefs, who have both Oakland and Los Angeles breathing down their neck in the AFC West.
16: Buffalo Bills (LW: 18) +2
Big win for Buffalo on Sunday. Not only does it come against an AFC playoff contender, but it helped the squad keep pace with the Ravens for the 6th seed in the AFC. Buffalo likely needs to go 3-2 down the stretch in order to make the playoffs and with games against the Colts and Dolphins (twice) left, it's entirely possible.
15: Washington Redskins (LW: 15) 0
The 'Skins saved their season on Thanksgiving against the Giants. In the NFC, 10 wins is what it's going to take to get a playoff spot. That means Washington has to beat the Cowboys, Chargers, Cardinals, Broncos and Giants to finish 10-6. I can see it happening, but I don't think it will.
14: Tennessee Titans (LW: 14) 0
It wasn't pretty, but the Titans picked up a W against the division-rival Colts. A matchup with the Jaguars in the final week of the season is going to be big for this bunch. It could decide who wins the division. Until then, Tennessee has the Texans, Cardinals, 49ers and Rams on the schedule. 3-1 in that stretch is entirely possible.
13: Baltimore Ravens (LW: 16) +3
Baltimore's defense continues to do enough to mask the horrible offense. Joe Flacco is trying to single-handedly keep this team from reaching the postseason. Nonetheless, the Ravens currently hold the 6th seed in the AFC and have a big game against the Lions coming this week.
12: Los Angeles Chargers (LW: 17) +5 *BIG RISER*
Los Angeles is for real. I was thoroughly convinced after the 0-4 start that this team was more like a 10-win bunch and I'm looking more and more right by the week. The Bolts have division games against the Chiefs and Raiders left later in the season that could decide who wins the wild, wild AFC West.
11: Detroit Lions (LW: 9) -2
Detroit continues to puzzle me. Every week, Matthew Stafford tries to get his running backs involved and every week, they're not having it. It really Stafford vs. whoever the Lions are playing that week. This week, it's the Ravens. 4-1 will have to be the record down the stretch for this team in order to qualify for a tie for the 6th seed in the NFC.
10: Seattle Seahawks (LW: 12) +2
Seattle helped itself a lot by winning a game it needed to win on Sunday. A loss to the lowly 49ers would have made me think a lot about the direction of this team heading into the last five weeks of the regular season. The Seahawks have some tough games left on the schedule these next three weeks (Eagles, Jaguars, Rams) then close the season against the Cowboys and Cardinals. Steal one of the tough games and win both easy ones and you're sitting at 10-6. That's the magic record.
9: Jacksonville Jaguars (LW: 8) -1
Jacksonville lost a game it should have won on Sunday. Arizona isn't realistically going to make the playoffs and shouldn't have kept it close in this one. Games like that are what worries me about this team. Can Blake Bortles win game for this team, or at least not lose them?
8: Atlanta Falcons (LW: 10) +2
Atlanta has silenced all the haters after getting to 7-4. This team is still in play for a division title as it plays the Saints twice and Panthers once the rest of the way. It's going to be one wild finish to the year in the NFC.
7: Carolina Panthers (LW: 7) 0
You can tell a conference is stacked if the 5th-seed is 8-3 on the year. What a great division. Carolina has back-to-back matchups against the Saints and Vikings on the docket. I think Cam Newton steals one from Drew Brees this week and bumps his team from the 5th seed to the 3rd seed.
6: Pittsburgh Steelers (LW: 5) -1
Sunday night's game against Green Bay didn't worry me in terms of the regular season, but I'm severely worried about this defense against Tom Brady. If Brett Hundley can carve up the D for 3 touchdowns, imagine what Brady can do. I'm hoping this was just an off game for the Steelers and not the beginning of a trend. We'll see. Regardless, Pittsburgh is still the second-best team in the AFC.
5: New Orleans Saints (LW: 3) -2
Tough loss to New Orleans. Eight wins in a row is still something to be proud of. A bit of adversity is creeping in for this squad and even more will follow if it loses to the Panthers on Sunday. Time to bounce back.
4: Los Angeles Rams (LW: 6) +2
The Rams rebounded from adversity by winning on Sunday. Jared Goff continued his amazing year on Sunday when he threw for 354 yards and a pair of touchdowns. This team has a tough test in a couple weeks when the Eagles come to town; it's time to prepare for it (assuming the team beats Arizona this week, which is a dangerous assumption to make).
3: Minnesota Vikings (LW: 4) +1
Minnesota just finds ways to shut down the opposition. This defense is the best in the NFL and Case Keenum looks more and more like a stud QB each week. The only thing stopping the Vikings is themselves - and maybe the Eagles come playoff time.
2: New England Patriots (LW: 2) 0
Another week at the office for the Pats. Everyone should have known they'd be rounding into shape right about now and everyone should have waited to hit the panic button. The only truly challenging game left for this team is a matchup in Pittsburgh on December 17th.
1: Philadelphia Eagles (LW: 1) 0
Who else did you expect? Philly has no reason to be anywhere but the first spot in these rankings until they lose. The team may be tested with games against the Seahawks and Rams back-to-back but other than that, Philly has the first seed in the NFC locked up.
That is it for the Week 13 Power Rankings. I hope you all enjoyed reading and you're excited for another great week of football. Here's to your team rising a spot or two in next week's rankings!
--------------------------------------------------------------------------------
This is your reminder to put your Best Foot(e) Forward in everything you do today! Always do the right thing and be the best possible version of yourself every day.
As always, if you'd like to get in touch with me or follow my social media accounts, you can find them here:
Facebook: https://www.facebook.com/TheBestFooteForward
Twitter: https://twitter.com/TheBestFooteFWD
Instagram: https://www.instagram.com/thebestfooteforward
Email: bestfooteforward17@gmail.com
If anyone is looking for fantastic bye-week analysis about who's favored to win coming off a bye or when facing someone coming off a bye: I encourage you to check out http://cheatsheetwarroom.com/fantasy-football/nfl/bye-weeks.aspx. This is my friend Brad's website. He has some amazing bye-week infographics with tons of helpful information on them. Although we're done with bye weeks, we do have 4 teams coming off a bye this week. Perfect for picks. Feel free to check it out. You can contact Brad at brad@cheatsheetwarroom.com. Let him know what you think!