Week 14 NFL Power Rankings - Who's Putting Their Best Foote Forward?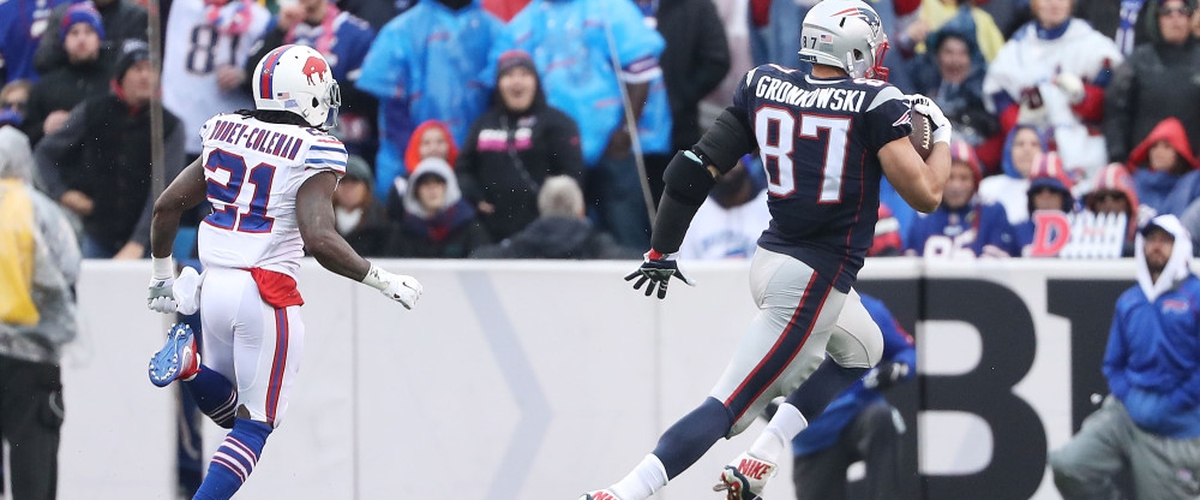 12 games are in the books for each NFL team. If you haven't been excited by the season thus far, you're not a football fan. The amazing thing is that these matchups get more and more intense by the week. Last week featured some shocking games and some typical games for powerhouses. Ahead of Week 14, let's see where your team stands in the Power Rankings!
32: Cleveland Browns (LW: 32) 0
One positive for the Browns is that Josh Gordon is back. 4 receptions for 85 yards is a great return for someone who's been out of the league for so long. There only seems to be one winnable game left on the schedule for Cleveland - and it doesn't come until Christmas Eve against the Bears.
31: Denver Broncos (LW: 31) 0
Every week we think Denver has hit rock bottom and every week we are wrong. Literally every quarterback on the roster has looked horrible and at this point, Denver is playing for draft position.
30: New York Giants (LW: 30) 0
I was temped to raise the Giants a spot simply because Ben McAdoo was fired. That's a plus for a team that visibly did not care about him or his schemes. Also, kudos to the team for giving Eli Manning his starting job back. He gives the team a better chance at winning than anyone else on the roster, but that might be bittersweet come draft time as his replacement will need to be drafted soon.
29: Chicago Bears (LW: 27) -2
Da Bears. The team is returning to that point. Mitchell Trubisky's passer rating hovered well above 100 on Sunday but when you only throw for 102 yards, it's not hard to do so. Tossing a few passes a game isn't going to put you at much risk of turning the ball over. Until he can put together multiple quality games in a row, this team will be bad.
28: Indianapolis Colts (LW: 26) -2
Indy is another one of these bottom-dwelling teams fighting for draft position. The offense continues to stall in opposing territory and the defense just allowed 30 points to Blake Bortles. Yeah, the Colts are that team this season.
27: San Francisco 49ers (LW: 29) +2
Jimmy G is a winner... for this week. 293 yards, no touchdowns and an interception was good enough to beat the Bears. It'll take a bit more than that to beat the Texans this week but nonetheless, it was a promising first start in SF for the young signal caller
26: Tampa Bay Buccaneers (LW: 25) -1
Tampa lost on a walk-off (or run-off, you could say) touchdown in overtime to Green Bay on Sunday. Something to that effect was expected. Jameis Winston played a good game, but did so in spite of the rest of his team. The Bucs are going to need another overhaul before they can contend in the stacked NFC.
25: Miami Dolphins (LW: 27) +2
Miami started their "if we win out, we can make the playoffs" run on Sunday with a big win over the Broncos. The tea leaves don't read a W for Smokin' Jay Cutler on Monday night against the Patriots. That's that.
24: Houston Texans (LW: 24) 0
I didn't drop Houston any spots this week! I might even be able to raise the team a spot or two if it can beat the 49ers on Sunday. Tom Savage is trying his best to keep the team afloat but something tells me 5 touchdowns to 6 interceptions isn't quite the formula to do so.
23: Arizona Cardinals (LW: 23) 0
Arizona was still somehow clinging to very distant playoff hopes at 5-6 before Sunday, but those hopes are gone. 5-7 would have provided hope in the AFC, but the Cardinals are not going to sniff a playoff spot in the NFC. Carson Palmer might as well begin rehabbing for next season or retirement, not a late-season return.
22: Kansas City Chiefs (LW: 17) -5 *BIG FALLER*
Things are getting ugly in Kansas City. Good news: Alex Smith returned to MVP form on Sunday, including a 70-yard scamper in the middle of the game. Bad news: the defense collapsed (again) allowing 38 points to Josh McCown is one thing, but when Marcus Peters literally picks up a referee's flag, throws it into the crowd and walks into the locker room, that's another thing. Back-to-back home AFC West matchups will define the season for KC.
21: New York Jets (LW: 22) +1
J-E-T-S! Somewhat surprising win over the struggling Chiefs on Sunday, but the real story is how this team has exceeded expectations. Many predicted the Jets could be the lone winless team in the league this year and through 12 games, here they sit at 5-7. There is still a very slim chance Josh McCown can carry this squad into the playoffs. I'm talking an extremely slim chance, but it's amazing that it's even a possibility.
20: Green Bay Packers (LW: 21) +1
Green Bay won twice this week. The Packers won on the field against Tampa Bay, but also won when Aaron Rodgers revealed he intends to return for the team's December 17 game against the Panthers, assuming Green Bay is still in playoff contention. If anyone were to run the table against the Panthers, Vikings and Lions, it'd be Aaron Rodgers.
19: Cincinnati Bengals (LW: 19) 0
Cincy wowed a lot of people, including myself, when it jumped out to a 17-0 lead against Pittsburgh on Monday. Many of us were also unsurprised when the Steelers promptly stormed back and won 23-20 on a field goal as time expired. Losses like this one are why the Bengals may not make the playoffs.
18: Buffalo Bills (LW: 16) -2
The Bills are a lot like the Bengals. One week they have the look of a playoff team and the next, they get dismantled by a superior opponent. It's not fun to be a Bills fan. In a very crowded AFC playoff picture, though, there's still plenty of time for Buffalo to figure things out.
17: Washington Redskins (LW: 15) -2
Washington effectively reduced its playoff hopes to nothing when it got blown out by the Cowboys on Thursday. 38-14 against Dallas without Ezekiel Elliot? You've got to be kidding me. The only question marks the rest of the way are whether Kirk Cousins is worth a huge contract and where the team will be drafting come April.
16: Oakland Raiders (LW: 18) +2
A few weeks ago, everyone was writing off Oakland and demanding better from the team. Now, the Raiders find themselves in a three-way tie for first place in the AFC West. Derek Carr is a magical QB and if he can pull some more magic out against the Chiefs on Sunday, you could be looking at the team that will represent the West in the playoffs.
15: Dallas Cowboys (LW: 20) +5 *BIG RISER*
Dallas kept its season alive on Thursday when it beat the Redskins by 24 points. A matchup with the Giants this Sunday favors the 'Boys heavily. 7-6 looks a lot better than 5-6 and Dak Prescott has to start somewhere.
14: Tennessee Titans (LW: 14) 0
Marcus Mariota and the Tennessee Titans continue to worry me. This team plays so inconsistent that it's impossible to pick them to win each week, but also impossible to pick them to lose. If I had to bet on a team to end a game in a tie, the Titans would be that team. The Arizona Cardinals aren't a very good team, but I wouldn't be surprised to see them upset Tennessee this Sunday.
13: Detroit Lions (LW: 11) -2
Detroit isn't going to make the playoffs this year. Before the season started, I made the Lions my trendy pick as a team that could shock the world, and they've done the opposite of that. Matthew Stafford is a great quarterback, but he's not Aaron Rodgers. He can't put a bandaid over every problem his team has and until help arrives, this is about a .500 team.
12: Baltimore Ravens (LW: 13) +1
Baltimore's defense continues to play well and Joe Flacco ate a nice big W on Sunday after a 44-20 victory over the aforementioned Lions. This team is very scary if Flacco can return to his old self. The Ravens have been to the postseason before and are not scared of traveling into Foxborough to play the Patriots. If Baltimore can get in, look out.
11: Los Angeles Chargers (LW: 12) +1
San Diego... SUPER CHARGERS! Oops, Los Angeles. Regardless, LA is riding high and suddenly shares first place in the AFC West with the Raiders and Chiefs. The Bolts will host Washington on Sunday in an effort to keep pace with the winner of the KC-Oakland game.
10: Jacksonville Jaguars (LW: 9) -1
Jacksonville's good side showed up last Sunday. It'll have to show up again this Sunday if the team wants to defeat the Seahawks. Blake Bortles will have to bring his A-game and the defense will have to play one inspired game of football. It's possible.
9: Atlanta Falcons (LW: 8) -1
Atlanta got stifled by the Minnesota defense on Sunday, scoring just 9 points in four quarters of hard-nosed football. I'm still not sold on the Falcons being a Super Bowl contender but at 7-5, the playoffs are still completely within reach. We'll see how good this team is at bouncing back when it hosts New Orleans on Thursday in what will be a great NFC South showdown.
8: Carolina Panthers (LW: 7) -1
MVP Cam Newton did not show up against the Saints, so the Panthers lost. That trend will continue as the season and postseason carry on. Carolina hosts the dominant Minnesota Vikings on Sunday in an effort to climb back into the conversation of being one of the top teams in the NFC.
7: Seattle Seahawks (LW: 10) +3
Seattle had a huge win over the Eagles on Sunday night. Holding Carson Wentz and company to 10 points should silence a lot of doubters when thinking about the LOB (or lack thereof). The 'Hawks have another opportunity to make a statement against the Jaguars in Jacksonville this Sunday.
6: Pittsburgh Steelers (LW: 6) 0
It took them more than a half to do so, but Pittsburgh finally woke up on Monday night and defeated the Bengals in epic fashion with a field goal as time expired. Ryan Shazier suffered a scary spinal injury but is recovering in the University of Cincinnati Medical Center for the time being. The next few days will be huge for him. Aside from that, it was an uplifting finish to the game for a team that is attempting to keep pace with the Patriots in the AFC.
5: New Orleans Saints (LW: 5) 0
The Saints handed the Panthers a 10-point loss on Sunday and it couldn't have come at a more opportune time. New Orleans is currently sitting atop the NFC South, one game ahead of the Panthers and two ahead of the Falcons. The Saints traveling to Atlanta is going to make for one of the best games of the season this Thursday.
4: Los Angeles Rams (LW: 4) 0
The Rams are legit. I'm a firm believer in them and although they scare me at times, this team is well-coached and its youth is peaking at just the right time. Hosting the Eagles on Sunday, the Rams have a perfect chance to make a statement and defeat one of the best teams in the entire league.
3: Minnesota Vikings (LW: 3) 0
Breaking News: Minnesota's defense is elite. If you actually thing that's breaking news, you haven't watched the Vikings play this season. On a day in which Case Keenum was the only source of points for Minnesota, the defense stepped up and held Matt Ryan and company to just 9 points. That's insane. The Vikings will face another tough task when they go on the road to face the Panthers this Sunday.
2: Philadelphia Eagles (LW: 1) -1
Philly lost a game and sits second in the rankings as a result. If the Patriots wouldn't have beat Buffalo by 20, I'd be inclined to keep the Eagles where they were last week. Don't feel bad if you're an Eagles fan; your team is still one of the best in the NFL. Suddenly though, the NFC seems a lot more wide open than it was before last week.
1: New England Patriots (LW: 2) +1
New England is playing some great football on the defensive side. I don't care who you're facing: if you can hold your opposition to 3 points, you're playing good defense. Tom Brady threw for 0 (yes 0) touchdowns and 1 interception on Sunday and his team still managed to win 23-3. If that doesn't show how talented this team is on both sides of the ball, I don't know what does.
That's it for the Week 14 edition of TBFF's NFL Power Rankings. With many marquee matchups on the docket this weekend, the list could look a lot different come Tuesday morning.
--------------------------------------------------------------------------------
This is your reminder to put your Best Foot(e) Forward in everything you do today! Always do the right thing and be the best possible version of yourself every day.
As always, if you'd like to get in touch with me or follow my social media accounts, you can find them here:
Facebook: https://www.facebook.com/TheBestFooteForward
Twitter: https://twitter.com/TheBestFooteFWD
Instagram: https://www.instagram.com/thebestfooteforward
Email: bestfooteforward17@gmail.com
If anyone is looking for fantastic bye-week analysis about who's favored to win coming off a bye or when facing someone coming off a bye: I encourage you to check out http://cheatsheetwarroom.com/fantasy-football/nfl/bye-weeks.aspx. This is my friend Brad's website. He has some amazing bye-week infographics with tons of helpful information on them. Although we're done with bye weeks, we do have 4 teams coming off a bye this week. Perfect for picks. Feel free to check it out. You can contact Brad at brad@cheatsheetwarroom.com. Let him know what you think!