Week 15 NFL Power Rankings - Who's Putting Their Best Foote Forward?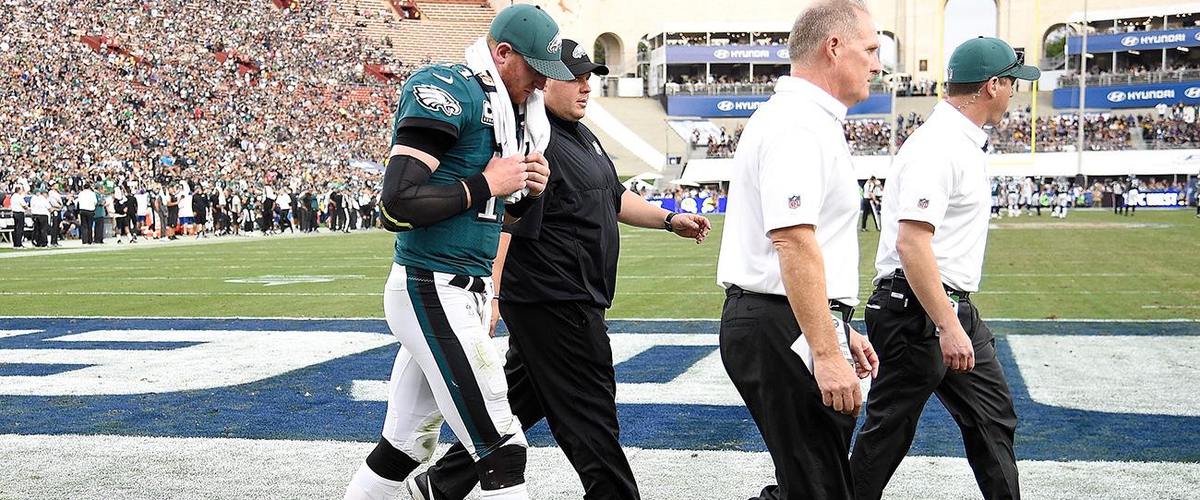 Week 14 went nothing like anyone (myself included) expected. Last week's slate of games featured a lot of upsets and a few unfortunate circumstances for some of the best teams in the league, and I think everyone knows what I'm talking about. Carson Wentz: Everyone is praying and hoping for a speedy, full recovery. It's a shame when any player in any sport gets hurt but when it's one of the best in the league, even non-fans of the NFL have a chance of knowing about it. Nonetheless, the show must go on. Find out where your team ranks ahead of week 15 in TBFF's Week 15 NFL Power Rankings!
32: Cleveland Browns (LW: 32) 0
DeShone Kizer threw a season-high three touchdowns in Sunday's overtime loss to Green Bay. He also threw a couple bad interceptions. This team is getting close to playing winning football and Kizer showed flashes of why Cleveland drafted him in April but until it translates to actual wins, this team will be stuck in the 32nd spot of the rankings.
31: New York Giants (LW: 30) -1
Eli Manning didn't have such a triumphant return to the team on Sunday. 1 touchdown and a pair of interceptions on 46 pass attempts isn't ideal. Every week, this squad is getting closer and closer to selecting the quarterback of the future in April. It's time for a change.
30: Indianapolis Colts (LW: 28) -2
Indy played a close game against a (potentially) playoff-bound team on Sunday in the middle of a blizzard. The Colts don't deserve to drop two spots but because this week was filled with so many upsets, here the Colts are at 30. Some positive Andrew Luck news would boost the Colts a spot or two, but that's about it at this point.
29: Denver Broncos (LW: 31) +2
Denver snapped the losing streak! A complete beatdown of the inept Jets was just what the doctor ordered for a team that was going through one of the worst stretches of football in franchise history. Trevor Siemian lives on to see another day or, in this case, week.
28: Tampa Bay Buccaneers (LW: 26) -2
Tampa Bay lost to a decent team. Tampa Bay isn't a good team. These two things have been certain throughout the season. Jameis Winston has yet to take that much-needed step forward that everyone expected this season and as a result, his team is bad. I'm going to give him a pass for this season due to so many injuries, but it'll be time to step up next year.
27: Chicago Bears (LW: 29) +2
Mitchell Trubisky is starting to look he part of a NFL quarterback. He hasn't been asked to do a ton over the past two weeks but he's been very efficient and has given his team something to look forward to in the future. I don't know what got into the team on Sunday against the Bengals, but it was surprisingly good.
26: Houston Texans (LW: 24) -2
Tom Savage showed just how horrible the NFL's concussion protocol can be when he suffered what looked like a possible seizure on Sunday, then began coughing up blood on the sidelines. Savage would reenter the game to the dismay of nearly everyone watching that game. Just like his team, Savage took a hit and got back up. Just like his team, the hit was too much for them to overcome in the long run.
25: San Francisco 49ers (LW: 27) +2
Jimmy Garoppolo is 2-0 as a starter in San Francisco. Let that sink in. Granted, those games were against the Bears and Texans but nonetheless, two wins are what they are. San Fran has their guy, and that's what this whole process has been all about.
24: New York Jets (LW: 21) -3
Josh McCown's season is done after the veteran journeyman broke his left hand in Sunday's shutout loss to the Denver Broncos. McCown finished his season with a TD:INT ratio of 2:1 and a passer rating of 94.5 Not bad for 38-year-old guy who many thought should be out of the league when the season began. The playoff push in New York is effectively over, though.
23: Miami Dolphins (LW: 25) +2
Miami shocked the world when it upset the Patriots on Monday night. Jay Cutler had his second three-touchdown, turnover-less game of the season. For some reason, his team wins when he throws touchdowns and doesn't throw interceptions. Odd, isn't it? Miami is somehow still hanging on for dear life in the playoff race at 6-7 and can make up huge ground with a win in Buffalo on Sunday.
22: Arizona Cardinals (LW: 23) +1
If Arizona were in the AFC, it would be in the same boat as Oakland and Miami - 6-7 teams with a little bit of hope left. Since the Cardinals are in the NFC, all they have to play for is draft position at this point. Neither Carson Palmer nor David Johnson is returning this season, so that's that. Time to build for next year.
21: Cincinnati Bengals (LW: 19) -2
Cincinnati got thoroughly destroyed by the Bears on Sunday. Right when I give Andy Dalton some credit for a solid season, he throws it right down the drain with one of the worst games I've seen him play. This team is far too inconsistent to make the postseason. The Marvin-Lewis-getting-fired rumors should begin soon.
20: Washington Redskins (LW: 17) -3
Washington couldn't get anything going against a good Los Angeles team on Sunday. Kirk Cousins has played some uninspiring football the past couple weeks and is not helping his case of being a franchise quarterback in this league. He's thrown 4 interceptions in the past three weeks. Now that Washington is out of the playoff race, Cousins is the only reason to watch this team.
19: Oakland Raiders (LW: 16) -3
Every week, I talk about how Oakland may be the most disappointing team in the NFL this season. Against the Chiefs on Sunday, my statement couldn't have been more true. 26-15 did the game no justice. Kansas City's D dominated the Oakland offense on Sunday and made Derek Carr look like he'd never set foot on a NFL field. The Raiders are still in the playoff race, but barely hanging on.
18: Tennessee Titans (LW: 14) -4
Tennessee continues to shoot itself in the foot each and every week. Marcus Mariota, much like Jameis Winston, has taken a step back in year three. The Titans look the part of a first round exit in the playoffs, assuming they can get there.
17: Kansas City Chiefs (LW: 22) +5 *BIG RISER*
Kansas City played four good quarters of football on Sunday for the first time in over a month. I'm not going to buy into it until the team can repeat this performance. Saturday night against LA is a perfect opportunity for the Chiefs to take control of the AFC West and reassert themselves as a force to be reckoned with. We'll see if they can do both, or if the Oakland win was an aberration.
16: Green Bay Packers (LW: 20) +4
Green Bay gets Aaron Rodgers back this week. That alone gives them a four-spot increase. Sunday's win over the Browns further solidified it. Rodgers will have to run the table to get his team into the playoffs and if there's one thing I've learned in my years watching football, it's to never bet against Aaron Rodgers.
15: Buffalo Bills (LW: 18) +3
Buffalo picked up a much-needed win over the Colts on Sunday in order to hold onto the 6th seed in the playoffs. It wasn't pretty, but a win is a win, especially this late in the season. I'm going out on a limb by predicting Tyrod Taylor will be able to play this Sunday but if he is, the Dolphins may have a problem.
14: Dallas Cowboys (LW: 15) +1
Dallas can't afford to lose another game the rest of the season. Defeating Oakland, Seattle and Philadelphia to close the season is highly unlikely. You can do the math. Winning against the Giants keeps the Cowboys mathematically alive, but we all know it's over.
13: Baltimore Ravens (LW: 12) -1
Baltimore took a big lead over Pittsburgh in the fourth quarter of Sunday night's game but, per usual, Ben Roethlisberger finished the game with over 500 passing yards and somehow came back to win the game late. Baltimore is still squarely in the middle of the playoff picture but made things a lot more difficult than they needed to be by losing to the Steelers.
12: Detroit Lions (LW: 13) +1
Detroit is another NFC team with small playoff hopes that picked up a win Sunday. Beating the Bears, Bengals and Packers to close the season is possible but with how stacked the NFC South is, 10 games may not guarantee Detroit a playoff spot this year. Sadly, 10 wins is all the Lions can get.
11: Los Angeles Chargers (LW: 11) 0
Los Angeles is rolling right now. If there's one team I would bet on to walk into Arrowhead Stadium and beat the Chiefs, it's this one. Philip Rivers is playing great football and his defense is a lot better than it was to begin the season. The winner of Saturday's game is likely going to make the playoffs and the loser likely won't. The season truly is on the line in less than a week.
10: Seattle Seahawks (LW: 7) -3
Tough loss for the Seahawks on Sunday. Jacksonville is a good team, so it's not a horrible loss. At the end of the day, the 'Hawks are still an 8-5 team with very realistic playoff hopes. With the Rams, Cowboys and Cardinals still left to play this season, it isn't going to be easy.
9: Jacksonville Jaguars (LW: 10) +1
Jacksonville made a statement when it beat Seattle on Sunday. For the second straight week, Blake Bortles threw two touchdowns and didn't throw a single interception. When Bortles plays like this, it's hard to beat Jacksonville.
8: Philadelphia Eagles (LW: 2) -6 *BIG FALLER*
Philly won what was a shootout with the Rams, but it came at a cost. Carson Wentz tore his ACL during Sunday's game. This was news no one wanted to hear, but it's part of the game. Nick Foles will be the starter in Philly for the remainder of the season. We'll soon know just how complete of a team the Eagles are and if Foles can make history by leading the squad to the promised land.
7: New Orleans Saints (LW: 5) -2
Heartbreaking loss for the Saints on Thursday to the Falcons. It seemed like Atlanta wanted it just a bit more than the Saints. Alvin Kamara's injury definitely played a role in the loss. This is still a great football team and a force to be reckoned with come playoff time.
6: Atlanta Falcons (LW: 9) +3
Atlanta keeps proving me wrong. Every time the Falcons have a bad game, I'm ready to write them off. The team then bounces back and beats a quality opponent and now, I'm convinced. This is a playoff team and if Matt Ryan can get on the same page with his receivers, it could be a Super Bowl team.
5: Los Angeles Rams (LW: 4) -1
Los Angeles lost to one of the best teams in the NFL. It happens. We know what the Rams are, but we don't know what they can be. This team can be the best in the NFC. It remains to be seen if Sean McVay can get his squad to make that leap, but there are still a few weeks of football left to fine-tune anything in preparation for the postseason.
4: Carolina Panthers (LW: 8) +4
Carolina proved me wrong on Sunday. Cam Newton didn't have a dominant performance through the air, but he sure was a threat on the ground. If Newton is some type of a threat in the postseason, the rest of the team will be dangerous. With games against the Packers and Falcons remaining, Carolina has a couple chances to play well against playoff-calibre opponents.
3: Minnesota Vikings (LW: 3) 0
Case Keenum threw a couple picks on Sunday. He was due for a rough game. If he doesn't throw those interceptions, Minnesota probably wins against Carolina. You can't turn the ball over against good teams and expect to win. Minnesota still only lost by a score. That goes to show just how good this team is and why I didn't drop it any spots this week.
2: Pittsburgh Steelers (LW: 6) +4
Pittsburgh is a scary team to play, just ask Cincinnati and Baltimore. No lead is safe against Ben Roethlisberger, Le'Veon Bell and Antonio Brown. This team refuses to quit and always has its foot firmly on the gas pedal. If only the Steelers could get a lead early in the game and keep it.
1: New England Patriots (LW: 1) 0
Tom Brady played one of his worst games in recent memory against the Dolphins on Monday. I can guarantee you he won't repeat that performance any time soon. Brady was largely to blame for the loss, something we can almost never say. I feel bad for the Steelers' defense this Sunday.
That's it for this week's power rankings. Your favorite NFL team has just three regular season games left to give you hope for next year or, ideally, make a playoff push this year. Here's to them picking up a W and moving up a spot or two in the rankings next week.
--------------------------------------------------------------------------------
This is your reminder to put your Best Foot(e) Forward in everything you do today! Always do the right thing and be the best possible version of yourself every day.
As always, if you'd like to get in touch with me or follow my social media accounts, you can find them here:
Facebook: https://www.facebook.com/TheBestFooteForward
Twitter: https://twitter.com/TheBestFooteFWD
Instagram: https://www.instagram.com/thebestfooteforward
Email: bestfooteforward17@gmail.com