Redskins Shut Down Raiders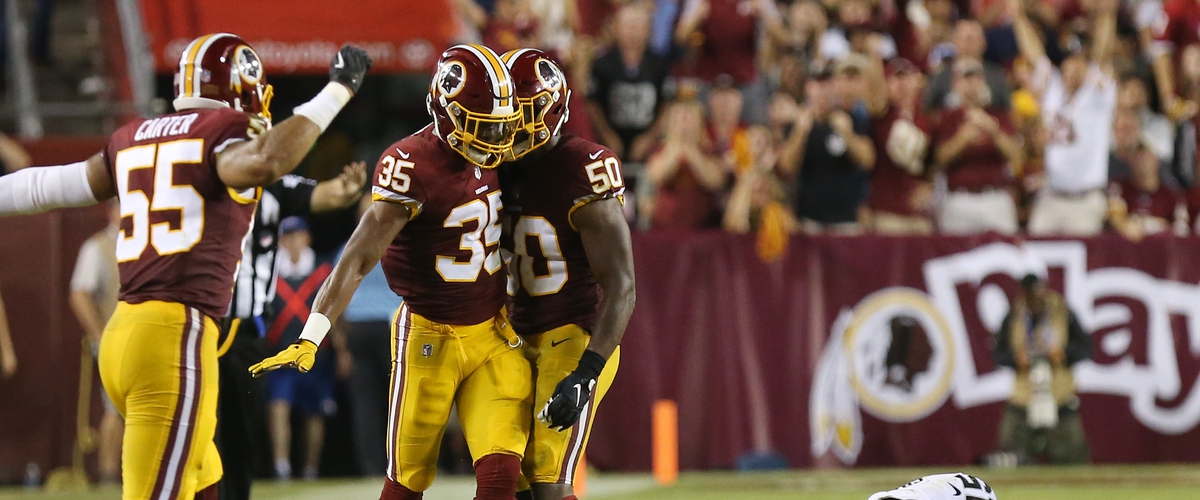 The Oakland Raiders offense had been in rhythm for the first two weeks of the season, but the Washington Redskins would not be bullied. The Redskins only allowed 150 yards of total offense in a 27-10 victory.
Washington's defense also forced a fumble and had 4 sacks. Montae Nicholson made a big time difference in the secondary for Washington. Derek Carr looked flat footed all game long for the Raiders. He completed 19-of-31 passes for 118 yards passing 1 touchdown and 2 interceptions.
In the first quarter, Kirk Cousins threw a 22-yard touchdown pass to Chris Thompson. Thompson had a big game with 6 catches for 150 yards receiving and a touchdown, along with 38 rushing yards on 6 carries.
In the second quarter, Cousins threw a 18-yard touchdown pass to Vernon Davis. Davis finished with 5 catches for 58 yards receiving and a touchdown. Jordan Reed was inactive for this game because of a rib injury.
In the third quarter, Cousins threw a 52-yard touchdown pass to Josh Doctson. It was Doctson's only reception of the game. Cousins was outstanding for the Redskins. He completed 25-of-30 passes for 365 yards passing and 3 touchdowns.
The only touchdown the Raiders scored in the game was on a 21-yard pass to Jared Cook from Derek Carr. Cook finished with 4 catches for 43 yards receiving and a touchdown. Marshawn Lynch only had 18 rushing yards on 6 carries.
The touchdown came after a dropped punt by Jamison Crowder. Dustin Hopkins made two field goals for Washington (23 and 28 yards). Giorgio Tavecchio made a 22-yard field goal for Oakland. The Raiders will travel to face division rival Denver (2-1) next Sunday and the Redskins will travel to face the Kansas City Chiefs (3-0) next Monday Night.
---