"The Stack" 3-18-20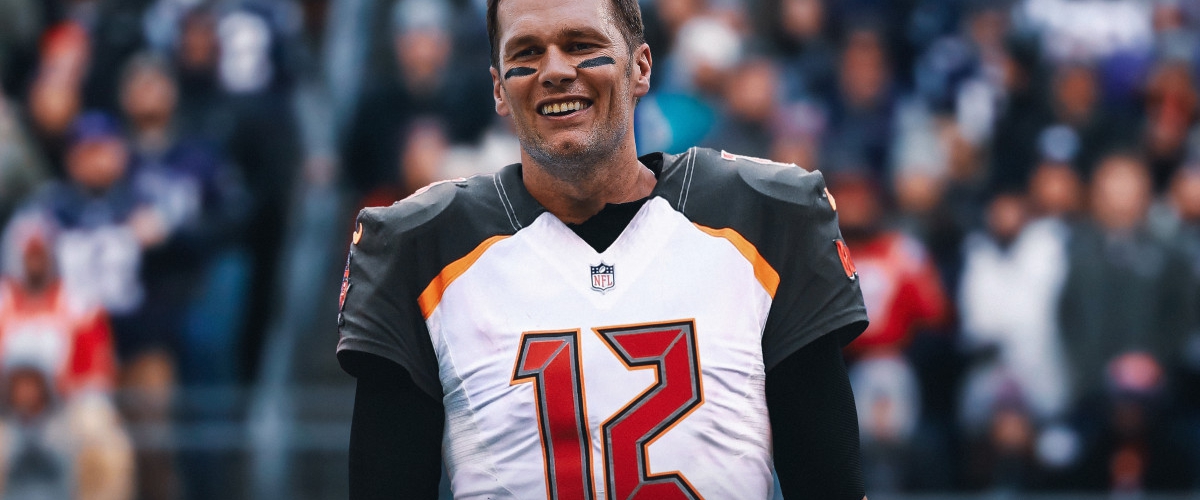 Yup, TB-12 is now TB-12. Tom Brady is leaving New England to join Tampa Bay. It's a rather stunning move that has gotten plenty of reaction from NFL players, media and fans.
The Stack is back on this Wednesday and the quarterback carousel has nearly come to a complete stop as the NFL deals keep coming with free agency just about to officially start (4 PM ET today I believe). The landscape in the NFL is definitely changing so let's discuss all of the deals in "the stack" for today, Wednesday, March 18th:
NFL free agency news
There was a lot of quarterback news that happened yesterday most notably Tom Brady informing the New England Patriots that he would not be coming back. That started a wild day of news for QBs. Let's look at some of the deals.
QBs make lots of movement on Tuesday
Drew Brees decided he isn't going anywhere. He re-upped with the New Orleans Saints on a two-year, $50 million deal. That's $25 million a year which seems kind of cheap today for a QB. Maybe that is so the Saints can add pieces around Brees and make one final push to the Super Bowl. This was not a surprise re-signing at all.
The NFC South dominated the QB news yesterday as Teddy Bridgewater, who on Tuesday seemed like he was going to be a Chicago Bear, joined the Carolina Panthers. It's a three-year, $63 million deal. There was the thought out there that Bridgewater would get more than $21 million per year and to be honest, I'm a little surprised it's as low as it is., but if Bridgewater does play well, he will still be young enough to cash in when the three years are done. On a related note, the Panthers have given Cam Newton permission to seek a trade. Newton didn't sound like wanted to be anywhere else and he is a little hurt by what is going on. I get it, but the writing seemed to be on the wall with comments by new head coach Matt Rhule and owner David Tepper in recent weeks and months. We'll see what happens on that front.
More on the other NFC South quarterback move in just a moment. Despite moving the family to the east coast in Florida to be closer to family, Philip Rivers is not going to be a Tampa Bay Buccaneer. Instead, he will be an Indianapolis Colt. The Colts and Rivers agreed to a one-year, $25 million deal. Rivers is an upgrade over Jacoby Brissett who can maybe use this year to hone his skills and become the full time starter next year with the Colts or with another team. If he can cut down on the interceptions, Rivers can lead the Colts to an AFC South division title.
And finally we get to Tom Brady, TB-12. It is widely expected that Brady will sign with the Tampa Bay Buccaneers today barring any late snafus. Head coach Bruce Arians is fantastic with quarterbacks. Look what he has done with Peyton Manning, Ben Roethlisberger and Carson Palmer. Jameis Winston couldn't protect the ball last year and Arians has not minced any words with Winston and his chances of being the starting quarterback this year. Brady is an upgrade, no doubt about it, but this almost is more of a money making move for the Bucs versus simply trying to win a Super Bowl. Attendance at Bucs games is dismal to say the least. They were 30th in the NFL last year. Now, already last night demand for Bucs tickets is skyrocketing. People were waiting in line on Ticketmaster for tickets. Interest in the Bucs is definitely on the up and up, because of Brady and he will make Bucs plenty of money. But on the field, he will also be good. He's got Mike Evans and Chris Godwin to throw too. The Bucs defense is pretty good. There is no reason not to think that the Bucs can't compete for the NFC South crown this year. They can beat the Saints. I'm not sure if I were Brady I would have picked the Bucs, but now that it appears he has, Tampa Bay has gotten far better and far more interesting.
There is some backup quarterback news to discuss as well. After a couple of years in Chicago as a backup, Chase Daniel is signing with Detroit, inking a 3-year, $13.05 million deal with the Lions. He of course will backup Matthew Stafford, but if Stafford gets injured, it will be nice to have a capable backup which Daniel is. And the Philadelphia Eagles have re-signed Nate Sudfeld to a one year deal to be Carson Wentz's backup. I'm guessing the Eagles will add another quarterback in the draft.
Wow! What a day for QB news.
Other free agent deals
Oh yeah, while perhaps not quite as busy as Monday, there were plenty of players that were coming to agreements on Tuesday. Among the deals:
· LB Blake Martinez (3-year, $30 million deal with New York Giants)
· TE Levine Toilolo (Agreed to terms with New York Giants)
· DT Jordan Phillips (3-year, $30 million deal with Arizona)
· DE Emmanuel Ogbah (2-year, $15 million deal with Miami ($7.5 million guaranteed)
· DE Robert Quinn (5-year, $70 million deal with Chicago ($30 million guaranteed…Chicago has since released #9 overall pick in the 2016 draft LB Leonard Floyd)
· LB Cory Littleton (3-year deal with Las Vegas Raiders)
· Jalen Mills (One-year deal with Philadelphia…moving to safety as the Eagles will not re-sign Malcolm Jenkins)
· LB Joe Schobert (5-year, $53.75 million deal with Jacksonville)
· RB Jordan Howard (2-year, $10 million deal with Miami)
· LB/DE Vic Beasley Jr. (Agreed to terms with Tennessee)
· TE Jason Witten (One-year, $4.75 million deal with Las Vegas)
· OT Bryan Bulaga (3-year, $30 million deal with Los Angeles Chargers)
· OG Alex Lewis (3-year, $18.6 million deal with New York Jets ($6 million guaranteed)
· DT D.J. Reader (4-year, $53 million deal with Cincinnati)
· DT Maliek Collins (Agreed to deal with Las Vegas)
· CB Darqueze Dennard (3-year, $13.5 million with Jacksonville ($6 million guaranateed)
· LB Kyler Fackrell (Agreed to terms with New York Giants)
· S Jordan Pryor (Re-signing with Buffalo…2-year extension)
· LB Thomas Davis (Signing with Washington)
· FB Derek Watt (3-year, $9.75 million deal with Pittsburgh)
· CB Trae Waynes (3-year, $42 million deal with Cincinnati)
· LB Sean Lee (Re-signing with Dallas)
· S Tre Boston (Re-signing with Carolina, 3-year, $18 million)
· OL Connor McGovern (3-year, $27 million deal with New York Jets)
· LB Carl Nassib (Agreed to a deal with Las Vegas)
· DTs Quinton Jefferson and Vernon Butler (Agreed to terms with Buffalo)
· WR Damiere Byrd (One-year deal with New England)
· LB Kiko Alonso (Re-signing with New Orleans)
· DL Gerald McCoy (3-year contract with Dallas)
Again, I have likely missed some deals, but this is a lot of what happened yesterday. Deals will be signed today. Hopefully no one pulls an Anthony Barr. We will see what else happens over today and the next few days of free agency.
If nothing else big happens, we'll post something regarding the NFL schedule and later on the draft.
Coming up later this week (if necessary): NFL free agency news
---