"The Stack" 4-27-18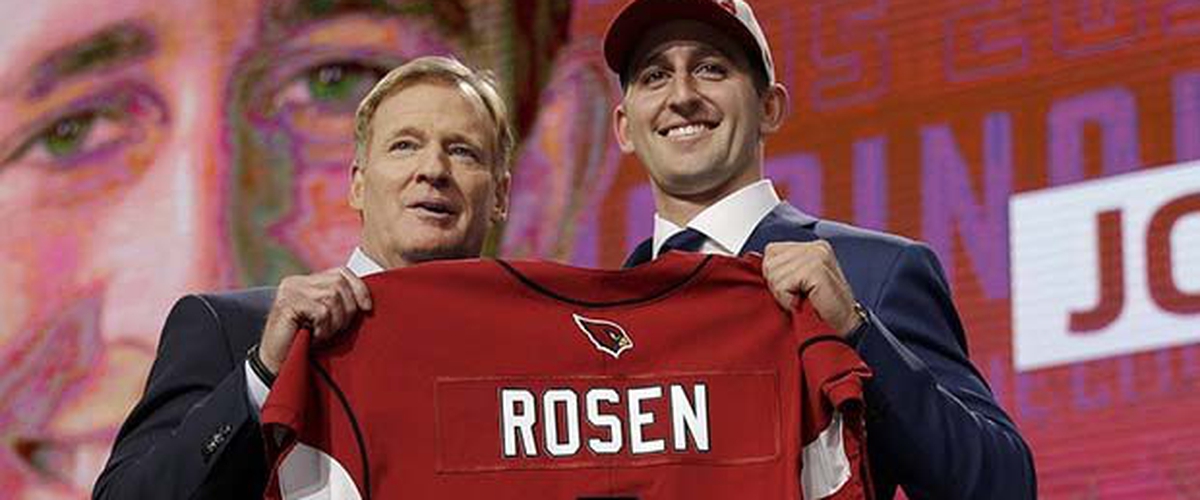 The Arizona Cardinals traded up from 15 to 10 and took Josh Rosen. Rosen was less than pleased that he lasted that long. That chip on his shoulder should serve him well. That was just one of the many storylines from night one of the draft.
The Stack is back on this Friday and the first round of the NFL Draft did not disappoint. It promised to be exciting and unpredictable and it was. Reaction to the first round plus NBA and NHL Playoff reaction so let's get right to it and see what's in "The stack" for today, Friday, April 27th:
Thursday NBA and NHL Playoff reaction
It was a light night for playoff action which is good with the NFL Draft starting. Just one NBA game and two NHL games with the second round starting.
To the court first and the Milwaukee Bucks have forced a game seven against the Boston Celtics following their 97-86 win. The Bucks were in control of this game pretty much from the second quarter on when they outscored the Celtics 26-15. The Greek Freak dropped in 31 points along with 14 rebounds. Home court has meant everything in this series so far so it would only seem that the Celtics will win game seven, but then again, anything can happen in a game seven. Should be a fun one in Boston.
On the ice it was de ja vu all over again for the Washington Capitals. Once again they are playing the Pittsburgh Penguins. Once again they find themselves behind in a series with the Penguins and they once again lost a game in excruciating style. The Capitals held a 2-0 lead in the third period thanks to two goals, one in the first and one in the third scored within the first 30 seconds of each period. Alex Ovechkin put the Capitals up 2-0 with a laser wrister. The lead didn't last. 7:30 minutes in actual gametime later and the Penguins were up 3-2 thanks to scoring three goals in less than a five minute span. Sidney Crosby had a goal. Jake Guentzel had what would prove to be the game-winner. The Capitals did what the Capitals do and that is give up a lead and lose to the Penguins. Do they have the mental strength to rebound and win game two? They are going to have to. They have no choice. They can ill-afford to go to Pittsburgh down 2-0 in the series. You can do that against Columbus. You can't do that against the Penguins.
The Vegas Golden Knights remain undefeated in the team's brief postseason history following an absolute throttling of the San Jose Sharks 7-0. Vegas scored four goals in the first period. It was all over after that. This Golden Knights team is quite the story. I don't think they will have any problems taking down the Sharks in this series.
Friday's NBA Playoff games
Toronto Raptors @ Washington Wizards 7 PM ET ESPNNEWS (Raptors lead series 3-2)
Cleveland Cavaliers @ Indiana Pacers 8 PM ET ESPN (Cavaliers lead series 3-2)
Oklahoma City Thunder @ Utah Jazz 10:30 PM ET ESPN (Jazz lead series 3-2)
Friday's NHL Playoff games
Winnipeg Jets @ Nashville Predators 8 PM ET NBCSN
NFL Draft round one thoughts
The first round of the NFL Draft did not disappoint. There was plenty of chatter starting Wednesday night that the Cleveland Browns were seriously considering taking Baker Mayfield number one overall. They ended up doing just that. It's a surprising pick, but Mayfield's skillset is without question. His style is somewhat similar to that of Tyrod Taylor's. Let him learn behind Taylor. The Browns certainly made a bold move. That left Sam Darnold and Josh Rosen to fall into the laps of the New York Jets at number three. They chose Darnold. Not a problem there.
There were four quarterbacks taken overall in the first ten picks, the first time that has ever happened. Both the third and the fourth quarterbacks taken went to teams who had to trade up…each only five spots. The Buffalo Bills traded from pick #12 to pick #7 with the Tampa Bay Buccaneers to take Josh Allen. The Arizona Cardinals traded up from #15 to #10 with the Oakland Raiders to take Josh Rosen. Rosen made no bones about how ticked off he was that he didn't get picked within the top three. The Cardinals got a real winner there I think. That chip will be there all career long.
There were other trades. The Green Bay Packers acquired a 2019 first round draft pick from the New Orleans Saints who jumped up from 27 to 14 to take defensive end Marcus Davenport from UTSA. That is a steep price to pay. The Packers would end up trading back up in the first round from 27 to 18 to take cornerback Jaire Alexander. Solid pick there for the Packers. The Ravens traded back twice and then traded back up to the last pick of the first round, 32, to take Lamar Jackson. I'm glad to see him get picked in the first round. He deserves it and I think he will do good things in Baltimore.
If we are looking at surprises besides Mayfield, I think certainly the Denver Broncos had to practically fall out of their chairs when defensive end Bradley Chubb fell to them. Adding him to an already fantastic defense is a great fit. Safety Derwin James falling all the way to 17 to the Chargers is really surprising. And then there were some questionable picks like the Tampa Bay Buccaneers taking Vita Vea when James was available and they could use the secondary help. Leighton Vander Esch is a good player, but I think it is a bit of a stretch for the Dallas Cowboys. Denzel Ward going four to Cleveland also was a little surprising. You can't make too huge of a deal with the picks made in one round, but certainly there were some that raised eyebrows like the Seattle Seahawks taking running back Rashaad Penny. Um, what?!
There are plenty of good players that could have gone in the first round that are available in round two. Guard Will Hernandez, running back Derrius Guice, tight end Dallas Goedert, edge rusher Harold Landry. These are all guys that should go fairly high today.
Oh and we can't go without saying what a cool site it was to see Pittsburgh Steelers linebacker Ryan Shazier walk out on stage to announce the Steelers pick. Remember that nasty hit that he suffered against the Cincinnati Bengals in December on that fateful Monday night? What a site. The Steelers took Terrell Edmunds a safety from Virginia Tech whose brother Tremaine went to Buffalo at pick 16. They are the first brothers ever to be picked in the first round. That is also really cool. They are both really good. Can't wait for rounds two and three tonight starting at 7 PM ET.
Coming up Monday: NFL Draft reaction plus playoff thoughts
Listen to this week's "The Sports Block" podcast here.
---