My 2020 NFL Draft grades for the Cincinnati Bengals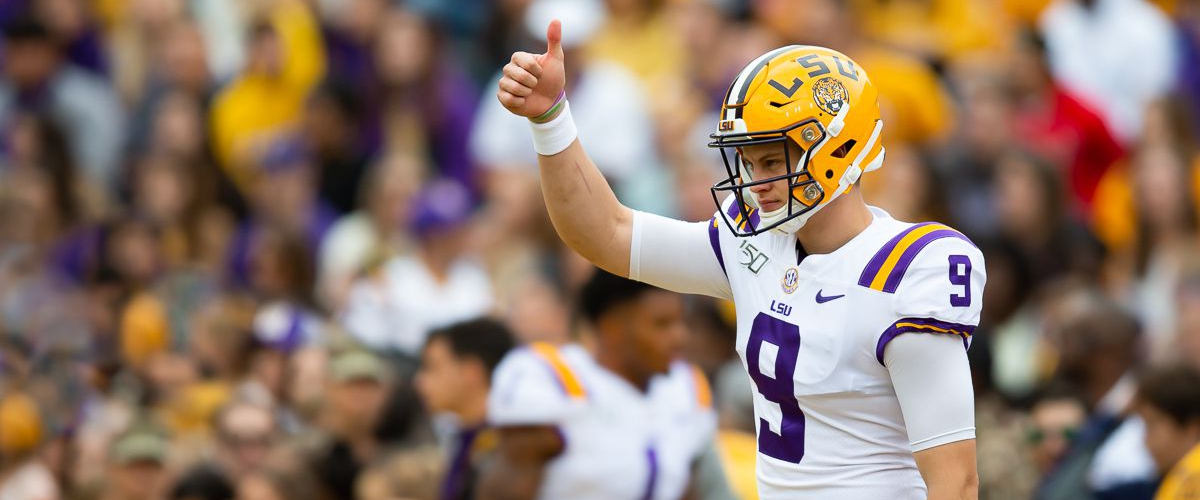 The NFL Draft is the most critical event in the offseason in terms of bad teams trying to become relevant again. No team needs that relevancy more than the Cincinnati Bengals. After a putrid campaign in 2019, the Bengals needed what some will consider a complete overhaul. Everybody knew that Cincy was going to take Joe Burrow first overall. That was a no-brainer. But the concern was with their other six picks in the draft. This isn't a franchise known for having a strong draft class. But the front office proved that they are committed to changing that trend. Every pick is graded and I am pleased overall with what the Bengals put together in the NFL Draft.
Joe Burrow (QB) LSU Tigers: First Overall
Burrow was the logical pick for the Bengals and we all knew it was coming. He's a champion and a leader on the field. Cincinnati needed someone under center that could bring the fire to the offense and Burrow should do just that. Burrow led the NCAA in passing yards last year and is currently tied for third for most passing yards in a season. He also led the NCAA in passing yards, completion percentage, and touchdowns. He's an extremely smart player and has a nice touch on his passes. His knowledge in reading pass coverage and ability in leading his receivers away from that coverage is why he's destined to be great in the NFL.
Grade: A+: The Bengals needed an upgrade under center and that's what they'll get with Burrow. He's both a leader and a champion. His situation is very similar to Peyton Manning and the Colts back in 1998. Cincinnati hopes the outcome is very similar too. The Bengals wanted a franchise quarterback, and they got one.
Tee Higgins (WR) Clemson Tigers: 33rd Overall
With so many needs to be addressed in the draft, I wasn't thrilled with this pick at first. But the more I looked at this, the more I liked it. Eventually, I fell in love with it. Higgins was projected by some to go late in the first round. He's a physical receiver that uses his size to create mismatches. That led him to catch 13 touchdowns and 1,167 yards last season. His ability to gain separation from defenders in second to none. Higgins is also the only Clemson player to record double-digit touchdown receptions in back-to-back seasons. The Bengals were also his favorite team growing up.
Grade: A: This is a pick that makes perfect sense. There's uncertainty revolving around A.J. Green after the upcoming season and Higgins will be able to step into that role if need be. Regardless, He's going to be a top receiver in the NFL and gives Burrow another weapon. This is a great handcuff pick if Green bolts after the season.
Logan Wilson (LB) Wyoming Cowboys: 65th Overall
The Bengals needed both a defensive leader and linebacker help. They got both with this pick. Wilson was a captain at Wyoming for three seasons. He recorded 409 total tackles and 34.5 tackles for a loss in his collegiate career and started in 39 consecutive games. A small school player, but he played very well in the upset win against Missouri last season. His ability to play both the Mike and Sam linebacker positions is very attractive. Wilson is one of the best linebackers in this draft class to possess a dangerous combination of strength and speed. He can go from sideline-to-sideline and never lets up on any play. I had him in the top-five at the position and he'll be a very solid linebacker in the NFL.
Grade: A: Wilson checked off every box that the Bengals were looking for. He can rush and he can cover. He went right where he was expected to go and Cincinnati didn't reach for a linebacker like other teams. He's a leader and a winner. Expect him to be an instant starter for the Bengals.
Akeem Davis-Gaither (LB) Appalachian State Mountaineers: 107th Overall
Cincinnati got their outside linebacker upgrade in the previous round. Taking Davis-Gaither with this pick gives them their inside linebacker upgrade. This is a guy who has played well above the level he should in regards to his size. He's a pass-rushing specialist and recorded five sacks last season with the Mountaineers. His 209 total tackles in the past 27 games display how he can get to the ball very quickly. He was the 2019 Sun Belt Conference Defensive Player of the Year. That was mainly due to how aggressive he plays on every down. He was the team captain in 2019 when Appy State went 13-1. Like Wilson, he was a small school standout that played well against bigger schools like North Carolina and Penn State.
Grade: A+: The reason the Davis-Gaither pick gets a slightly better grade than Wilson is due falling to the fourth round. I'm baffled as to why this guy didn't go in the third. With him there to start the fourth round, this was a match made in heaven for the Bengals. This new dynamic duo will help contain Lamar Jackson.
Khalid Kareem (Edge) Notre Dame Fighting Irish: 147th Overall
Kareem has the perfect size and speed needed to be an edge rusher in the NFL. He recorded 5.5 sacks and 10 tackles for a loss last season. Finished his collegiate career with 13 sacks and 26 tackles for a loss. Considered more of a contributor in the pros, but he was a leader at Notre Dame. Teams gave him a high rating on his football I.Q. at the combine. I really like his maneuverability around edge blocks and how quick he can get into the backfield. Another pick by the Bengals where they drafted a team captain.
Grade: B: I really like Kareem, but I felt that there were a few other edge rushers that ranked higher than him that could've been taken with this pick. Regardless, this is still a good pick up for the Bengals. His solid work ethic should help him develop and see some playing time in the future.
Hakeem Adeniji (OL) Kansas Jayhawks: 180th Overall
When thinking about offensive linemen, we often think of someone that's big, strong, tough, and rugged. Those traits describe Adeniji perfectly. Despite two shoulder surgeries and Kansas, Adeniji did not miss a start. No, you did not just read a typo. The big man started all 48 games with the Jayhawks. The main thing that stands out with Adeniji is his versatility. He's a tackle, but played eight games at guard this past season. He even practiced taking snaps. His ability to dominate in the trenches helped Kansas have their first 1,000-yard rusher in back-to-back seasons since 2013. He's also credited for being one of the leaders for the Jayhawks and was on the Commissioner's Honor Roll for his academic achievements.
Grade: A: While Adeniji may not reach the top of the depth chart, his ability to play both tackle and guard gives the Bengals a solid depth player. Building depth on the offensive line is very important. That's why this pick gets a high grade. With his work ethic, becoming a starter isn't farfetched either.
Markus Bailey (LB) Purdue Boilermakers: 215th Overall
Bailey ranked as high as a second-round pick going into the 2019 college football season. A second ACL injury hindered those expectations. But if you look at his 2018 performance, he's an animal. Now here's a guy that plays with so much emotion (say that in your best Chris Collinsworth impression). In 2018, Bailey started every game and recorded 115 tackles, 9 tackles for a loss, and 6.5 sacks. He had his best performance that season in the 49-20 upset blowout against Ohio State, where he put up 15 tackles and a pick-six. He's solid at both run and pass coverage due to his excellent field vision. Also, Bailey was the team captain in 2019.
Grade: A+: The seventh round is all about taking a gamble on a player. This is a very good gamble as it's a low risk, high reward situation. Bailey said that he's healthy and ready to prove himself. If he stays healthy, the Bengals could have just hit a home run with the steal of the draft.
Overall Grade: A
Honestly, I didn't expect much from the Bengals in the draft after taking Burrow. This is a team that usually gets it wrong with its picks. But that wasn't the case this year. The front office had different goals this year and they stuck to those goals. Every pick was either a champion, leader, academic stud, or all three. What the Bengals have done with this draft class is they started the foundation of what we should expect to see from the attitude aspect under the Zac Taylor era. They took very good players that have a great work ethic. That's going to be a game-changer with a team that wants to build a contender through the draft. What this draft shows is that the Cincinnati Bengals are committed to getting better as an entire unit. Tobin took the wheel, turned the bus around, and is now heading them back north.
---